Does Hanoi have the best vegetarian and vegan restaurants? The answer is yes, and vegetarianism has long become a beautiful culture of Vietnamese people. The people of Hanoi love pure vegetarian dishes like the old streets of Hanoi, full of love. Additionally, vegetarianism is also an art to help calm the mind, balance life, and experience moments of peace and relaxation. Here, let's discover the 15 best vegetarian and vegan restaurants in Hanoi with fresh, delicious, and authentic Vietnamese food!
You may also like:
Best Vegetarian and Vegan Restaurants in Hanoi
Vi Lai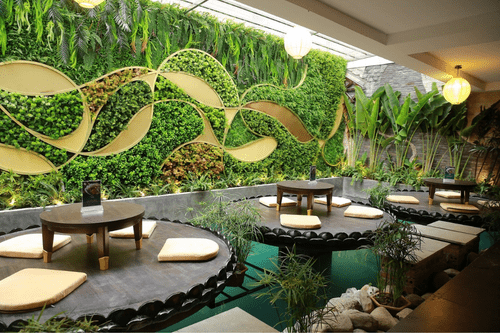 Source: vilai.vn
The first of the best vegetarian and vegan restaurants in Hanoi is Vi Lai. Coming to Vi Lai, you will be immersed in the clear green nature, murmuring streams with small fishes. The space here, every corner, gives people an unforgettable impression. This is truly a place for anyone looking for spiritual healing.
Vegetarian dishes at Vi Lai are extraordinary, rich, and unforgettable. You can enjoy Tieu Dieu Hot Pot, considered the restaurant's delicacy. In addition, there are many delicious dishes made from extremely prestigious nutritious vegetables and fruits, such as Vi Lai salad, forest mushroom soup, red curry cooked with coconut, fresh seaweed noodle soup, and more.
In addition to the impressive space, the vegetarian dishes in Vi Lai will surely make you fall in love. Because the dishes are made from natural, fresh and nutritious ingredients. Vi Lai skillfully processes vegan dishes into special flavors, guaranteed unforgettable!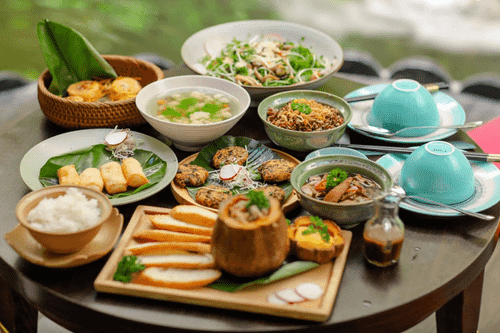 Source: pato.com.vn
Price: 8 USD – 15 USD / person
Opening hours: 09:30 – 22:00
Facebook: Nhà hàng Chay Vị Lai
Address: No.67, Ly Thuong Kiet Street, Hoan Kiem District, Hanoi (between the Museum of the Ministry of Public Security and the Cuban Embassy)
Best Food Tours for Vegans in Hanoi!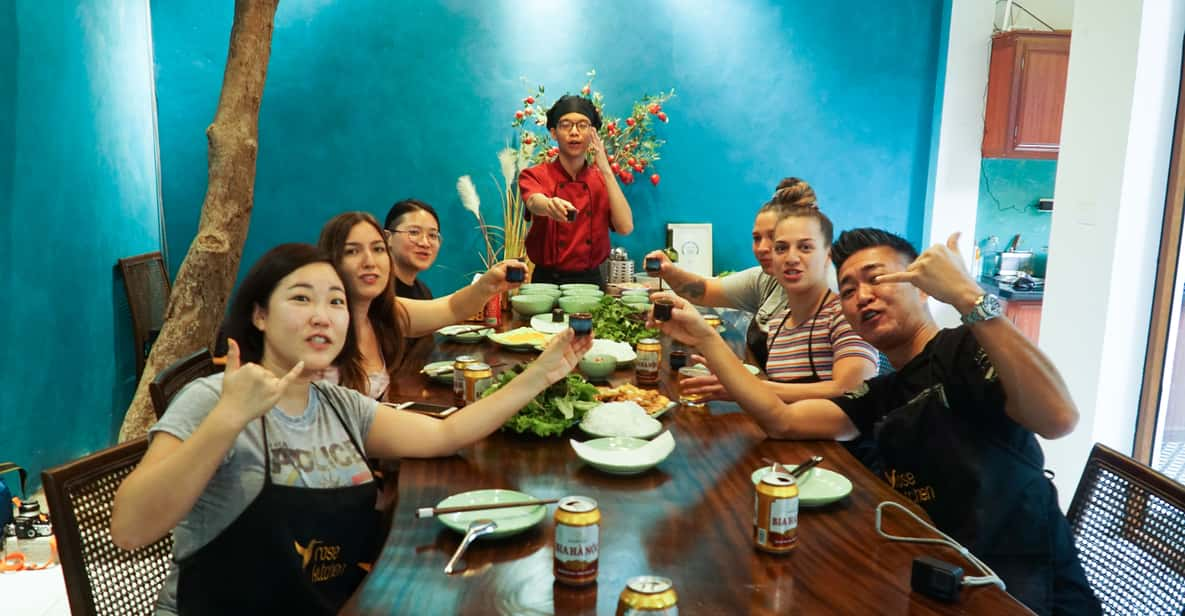 Uu Dam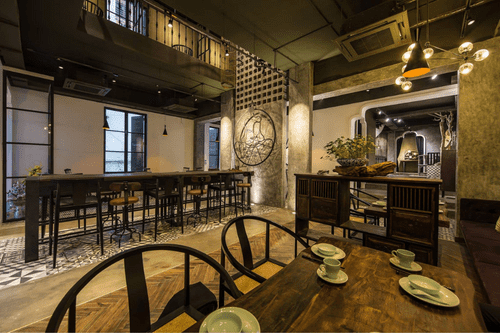 Source: uudamchay.com
Uu Dam Chay owns a pure and very cozy "Buddha" space. There is a diverse menu, from appetizers, main dishes, hot pots, desserts, and drinks. Especially the Uu Dam Chung cake is very famous. Each dish and drink is the essence of nature and the sincerity of the chef.
In the center of a busy street, Uu Dam vegetarian restaurant is a place to stop for quiet souls. The unique space of Uu Dam helps to leave all worries behind. The first impression when you walk into the shop is that the shop is charming. From the tree-lined road when you arrive at the door to when you step inside, you will be amazed.
The luxurious shimmering space is very suitable for polite meetings. The restaurant has a modern design, from the service space to the inside toilet area. The food is very diverse. Including many delicious vegetarian dishes from salad, soup, fried rice, noodle rolls, pasta, and more. The surrounding trees and peaceful recitation music suit this vegetarian restaurant.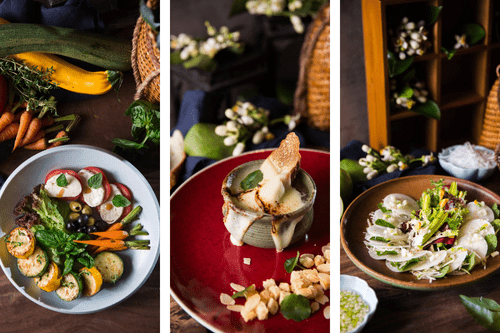 Source: uudamchay.com
Price: 6 – 16 USD/person
Opening hours: 09:00 – 22:00 (Monday – Thursday) | 09:00 – 22:30 (Saturday – Sunday)
Facebook: Ưu Đàm Chay
Address: No. 55, Nguyen Du street, Hoan Kiem district, Hanoi, or No. 34, Hang Bai street, Hoan Kiem district, Hanoi
TourTeller's Pick – Best Activities in Hanoi
Huong Thien
Source: digiticket.vn
Huong Thien restaurant is famous for its long-experienced chefs. The restaurant upholds the "healthy-clean" criterion for diners. Therefore, raw materials are always selected very carefully. In the luxurious and cozy space of the restaurant, diners will enjoy the most beautiful meal.
The menu at Huong Thien has nearly 100 unique and strange vegetarian dishes with the desire to satisfy customers who are still unfamiliar with vegetarian dishes. Particularly on the full moon day and the 1st, the restaurant will open 30 minutes earlier. Hence, customers have more time to enjoy and experience.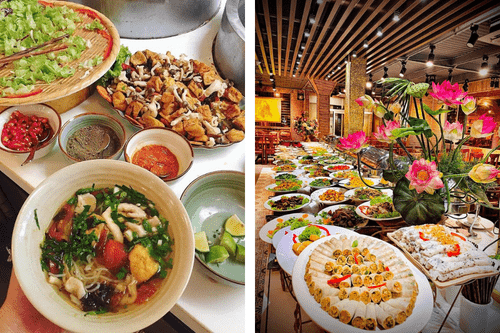 Source: digiticket.vn
Price: 4.85 USD/adult and 2.83 USD/child over 1m tall
Opening hours: 11:00 – 14:00 | 18:00 – 21:00
Facebook: Buffet Chay Hương Thiền
Address: No. 261, Xa Dan street, Dong Da district, Hanoi (go deep into the alley, about 5m)
Sadhu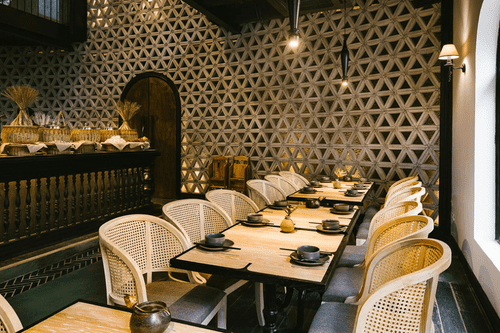 Source: chaohanoi.com
Located on Hoang Dao Thuy Street, Sadhu, a Hanoi Vegetarian Restaurant, is extremely prominent with its artistic design style. You will experience an open space that is not fussy but extremely luxurious, bearing the spirit of Buddhism. Sadhu is decorated with large and small Buddha statues, creating a feeling of purity and peace. Coming to Sadhu, you see the modern and the traditional, from space to food. Ensure that customers will have a meal together, happily and peacefully, with family and friends.
Sadhu Chay Restaurant currently has 2 locations in Hanoi, Hoan Kiem district, and Cau Giay district. This highly luxurious Hanoi vegetarian restaurant served buffet style – a service style gradually becoming popular nowadays. This restaurant offers diners pure vegetarian dishes beautifully presented in a quiet, rustic space. The restaurant is suitable for small family meals or corporate parties; you can also order a vegetarian party or takeaway cake.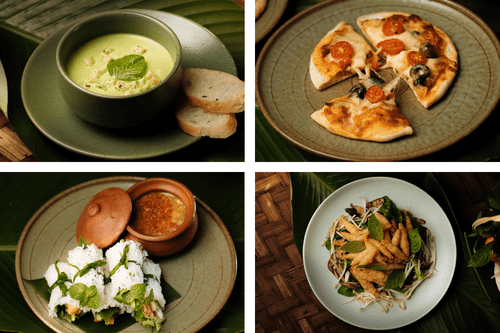 Source: Sadhu.vn
Price: 12 – 46 USD
Opening hours: 10:30 a.m. – 10 p.m
Facebook: Nhà hàng chay Sadhu
Address: No. 87, Ly Thuong Kiet street, Hoan Kiem district, Hanoi or Udic Complex, N04 Hoang Dao Thuy street, Trung Hoa, Cau Giay district, Hanoi
Veggie Castle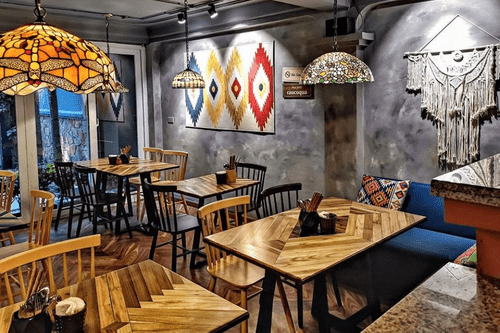 Source: wecheckin.vn
Coming to Veggie, it is impossible to ignore the restaurant's vibrant and beautiful menu. The buffet counter is located in a separate area for diners to freely choose their favorite dishes on small plates prepared by the restaurant. You can enjoy a hearty vegetarian meal under the warm lights and European nomadic-style space. The restaurant's menu is also changed daily, so diners don't get bored while dining.
Because of capturing the love of Hanoi residents, Veggie vegetarian restaurant is growing more and more. A special feature of the vegetarian restaurant chain Veggie is the "Bohemian" nomadic space. Eye-catching texture images will give you an enjoyable experience. Though the menu at Veggie Castle is unique and has a lot of different items, the price is reasonable for many people.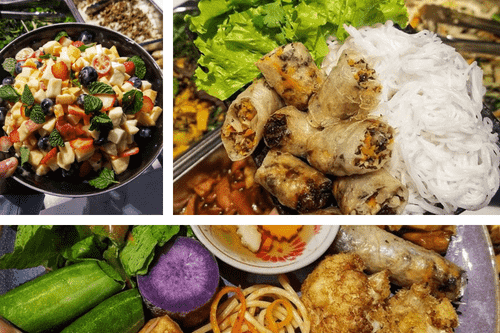 Source: wecheckin.vn
Nang Tam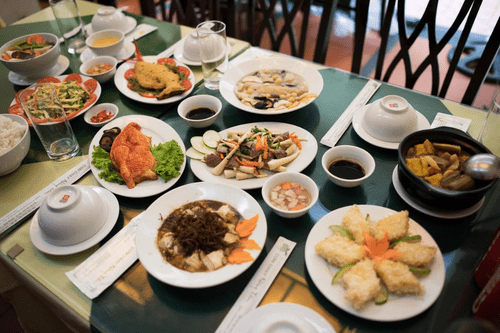 Source: pato.com.vn
Suppose you are looking for a delicious vegetarian restaurant in a nice quiet space. In that case, Nang Tam vegetarian rice will be recommended! Located on Tran Hung Dao street in Hoan Kiem district, Hanoi, Ms. Tam's vegetarian rice does not have the town's luxury. Still, it has its sophistication that draws customers again and again maybe it is the simple and warm tray of rice.
Nang Tam Vegetarian Rice is one of the first vegetarian restaurants in Hanoi, established in 1995. This Hanoi vegetarian restaurant carefully selects vegetarian ingredients to prepare the dishes. In particular, the taste of vegetarian dishes at Nang Tam Vegetarian Restaurant is diverse, not inferior to savory dishes. Thanks to the long-standing experience and tradition, this Hanoi vegetarian restaurant has always maintained its reputation and favor with customers.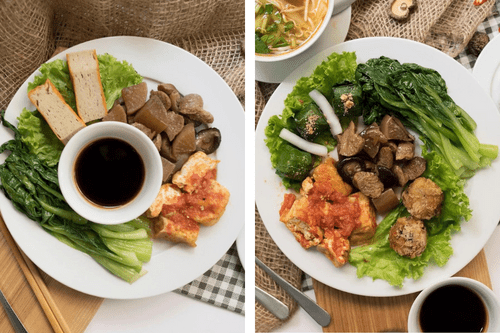 Source: pato.com.vn
Price: 3 – 5 USD
Opening hours: 09:00 – 21:00
Facebook: CƠM CHAY NÀNG TẤM
Address: No. 79A, Tran Hung Dao street, Hoan Kiem district, Hanoi
Om Tara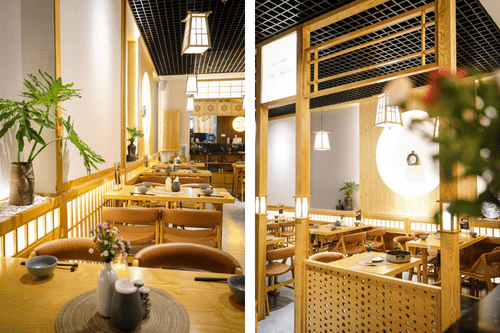 Source: omtara.vegan
Have lunch at a peaceful corner in Om Tara amidst the hustle and bustle of Hanoi. As a soft stop for travelers on a long journey, Om Tara is where you enjoy healing moments with nutritious vegetarian dishes. At Om Tara Vegan, ingredients are carefully selected from clean and organic sources, guaranteed non-GMO, natural spices, and processed under Om Chef's talented hands and the team's nutritional advice.
The difference in the menu of nearly 100 vegetarian dishes at Om Tara is the Philosophy of Roundness, designed based on Ayurveda – the science of life with a thousand-year tradition. Ayurveda attaches great importance to taste, affecting food's digestive fire and aftertaste. Therefore, the chef carefully considers each dish at Om Tara to bring out its flavor, stimulate the digestive fire and ensure adequate and balanced nourishment for the body. Each dish is a message of health and peace to all customers. It is definitely one of the best vegan restaurants in Hanoi.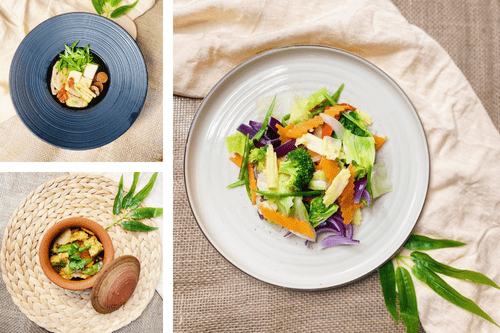 Source: omtara.vegan
Price: 4 – 12 USD/person
Opening hours: 10:00 – 14:00 / 18:00 – 21:00
Facebook: Om Tara Vegan
Address: 1st floor, Golden Palm Building, No.21 Le Van Luong street, Thanh Xuan district, Hanoi
Vegito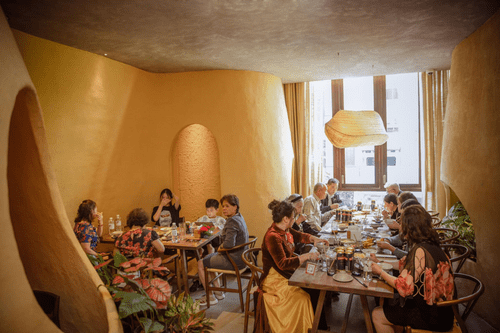 Source: chayvegito
Vegetarian Buffet Vegito is a place to eat healthily with many delicious dishes. Moreover, a vegetarian diet benefits health, protects the environment, and maintains flexibility and longevity for the body. So in today's modern life, vegetarianism is a popular thoughtful action.
Here, you can enjoy more than 70 delicious dishes such as bean salad, almonds, mixed banana flowers, pho rolls, pumpkin soup, amaranth soup, seaweed mushroom rolls, banana beans, mushrooms with sweet and sour sauce, black soy sauce noodles, Hue filter cake, brown rice, vermicelli, and more.
After enjoying the main vegetarian dishes, move on to the light but very delicious desserts. Vegito always understands customer psychology, so it is ready to prepare a variety of desserts for everyone to choose such as Grapefruit tea super pulp, banana cake, coconut milk, longan lotus seed tea, passion fruit mousse, and more.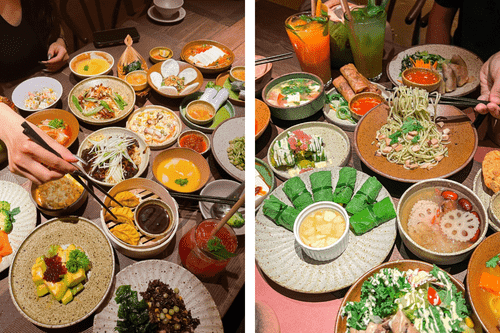 Source: chayvegito
Price: 10 USD for an adult and 5 USD for children with a height of 1m
Opening hours: 11:00 – 21:30
Facebook: Buffet Chay Vegito – 45 Ngô Thì Nhậm
Address: No. 4, Dinh Ngang street, Hoan Kiem district, Hanoi or No.45, Ngo Thi Nham street, Hai Ba Trung district, Hanoi
D've Buffet Chay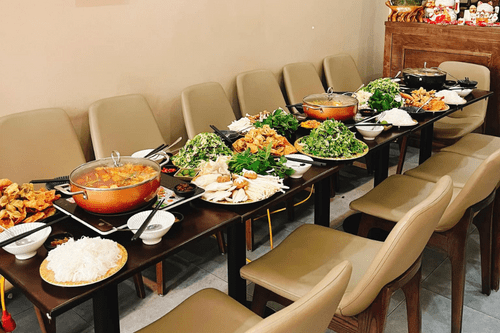 Source: Dvebuffet
D've Buffet Vegetarian was born after a long time of incubation and dedication; now, with enough predestined conditions, the small and lovely D've Buffet Vegetarian Restaurant has officially come into operation. I've always looked forward to welcoming everyone here to enjoy the delicious vegetarian dishes made entirely from fresh vegetables and enthusiastic hands.
Along with a pure and delicate space, letting your soul relax in gentle meditation music promises to bring a memorable experience of vegetarian cuisine to customers near and far. The menu at D've will be changed every day to create variety. Customers can refer to the menu on the shop's fan page. Photos are always taken by D've authentically so that everyone can see the appeal of vegetarian dishes.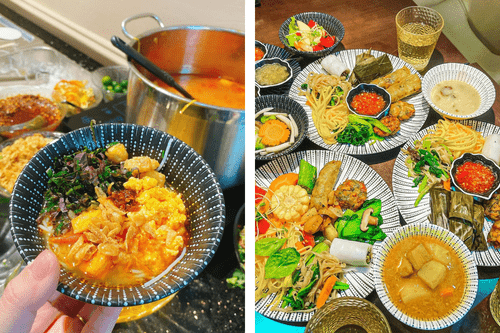 Source: Dvebuffet
Price: 2.5 USD for office lunch, 5 USD for buffet, and 10 USD for buffet
Opening hours: 11:00 – 14:00 | 18:00 – 21:30
Facebook: D've Buffet Chay
Address: No. 83, Mai Hac De street, Hai Ba Trung district, Hanoi
Tinh Thuc
Source: tinhthucquan
Tinh Thuc Quan – Tinh Thuc Vegetarian Food Restaurant is one of the largest vegetarian buffet restaurants in Hanoi today. You can eat 200 different vegetarian dishes at a very affordable price compared to the quality. The dining space at the restaurant is also great. Especially under the hot summer weather when entering the restaurant, the cool air conditioner makes you feel completely comfortable, bringing a relaxing feeling to start enjoying the food in the best mood.
Vegetarian ingredients are carefully selected, committed not to use substances that do not meet safety standards to ensure customers' health and keep the pure taste simultaneously.
If you come to Tinh Thuc Quan in the evening from Monday to Thursday every week, you will receive a 20% discount on the total bill. Tinh Thuc Vegetarian Food Restaurant is where Buddhists can go vegetarian, listen to Dharma lectures, read Buddhist books and join hands to do charity across all parts of the country.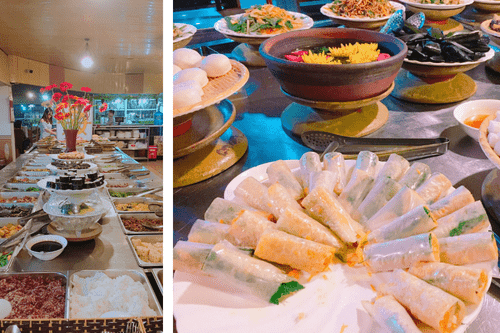 Source: tinhthucquan
Price: 5.2 USD / adult and 3.21 USD/child under 8 years old
Opening hours: 07:00 – 21:30
Address: No. 10, Huynh Thuc Khang street, Dong Da district, Hanoi
An Lac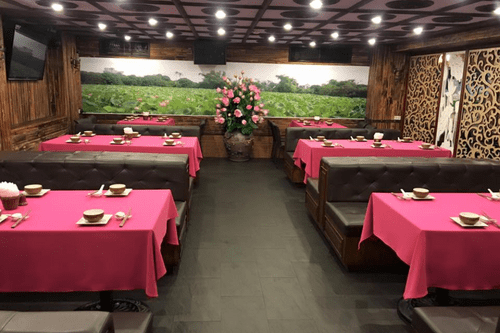 Source: digifood.vn
True to the restaurant's name, coming to An Lac, you will enter a beautiful and peaceful space with gentle decoration, creating a feeling of relaxation. Customers can both enjoy elegant vegetarian dishes and have peace of mind.
With more than 60 buffet dishes for you to choose freely. Various talks, from savory dishes, such as pho rolls, and rolls to sweet and cool desserts, give diners a cozy and peaceful feeling. Food mainly made from mushrooms, vegetables, and tofu is delicious and satisfying. Attentive, enthusiastic, polite staff will comfort you when choosing this restaurant. The restaurant with the motto of vegetarianism is an ethical lifestyle that does not hurt oneself, does not hurt others, and does not hurt sentient beings.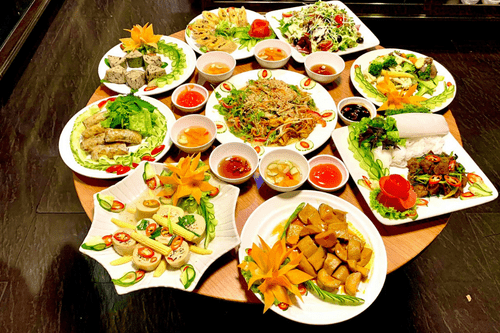 Source: digifood.vn
Price: from only 4.78 USD/per person
Opening hours: 10:30 – 13:30 & 17:30 – 20:30
Facebook: Nhà Hàng Buffet Chay An Lạc
Address: No. 109, Tran Hung Dao street, Hoan Kiem district, Hanoi
Peace Vegan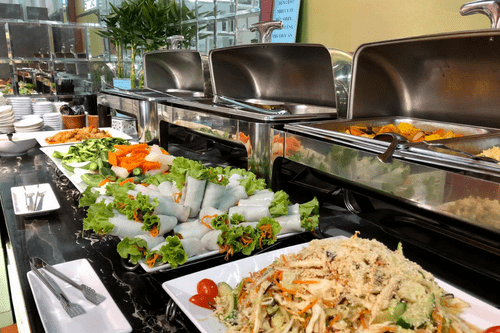 Source: peacevegan.45nhatchieu
From the many great vegetarian and vegan restaurants in Hanoi, the Peace Vegan buffet is budget friendly with the cost of about 2.5 USD. Still, there are many delicious vegetarian dishes for you to choose from. The restaurant has a diverse menu, from appetizers and main dishes to desserts. This is a vegetarian restaurant in Hanoi that you should not miss!
As the name suggests, Peace Vegan gives customers a peaceful feeling when they come to the shop. Airy, spacious space with excellent price, service, and food quality. The menu has approximately 30-50 dishes, so the restaurant is always crowded, especially on weekends, full moon days, and early months.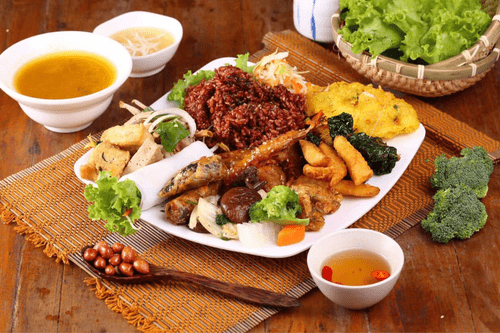 Source: peacevegan.45nhatchieu
Zenith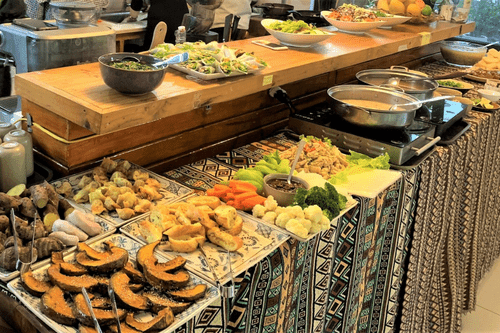 Source: ZenithVegan
After a jogging session or cycling around West Lake, you can head to Zenith to enjoy an exciting vegetarian meal. With a simple yet cozy space, Zenith is suitable for a light brunch or a relaxing coffee spot. Besides Asian dishes such as soba noodles, bento rice, and vegetarian pho, there are also other styles of vegetarian dishes such as pizza, pasta, tacos, mushroom strudel, and freshly baked nut loaves of bread.
Suppose you're stopping by for a snack. In that case, Zenith offers vegetarian pastries topped with nut milk coffee, fresh smoothies, and homemade kombucha. It also often organizes cooking and baking classes here to spread the sustainable lifestyle.
Source: ZenithVegan
Price: 3 USD – 6 USD / person
Opening hours: 9:00 – 20:00
Facebook: Zenith Vegan restaurant & cafe
Address: No.99B, Alley 275, Au Co street, Tay Ho district, Hanoi
Tam Hoai An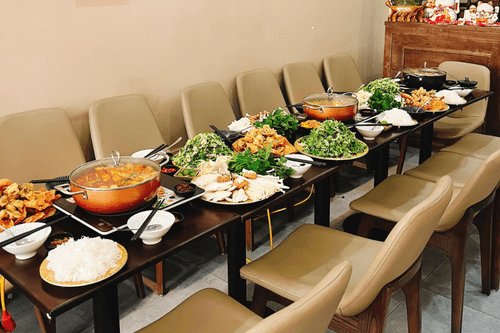 Source: buffetchaytamhoaian
If you overeat meat, then sometimes, deciding to go vegetarian is also a great choice to "confront the wind." This vegetarian restaurant has a spacious garden view. For those who like open space, this is a choice not to be missed. Inside, the decoration is light and peaceful, just like the name Tam Hoai An. Decorating lotus flowers and Buddha statues combined with warm tones… are pretty close and have typical East Asian features.
The menu at the restaurant changes from day to day. Quite interestingly, the food is continuously filled on the line counter. Here, the dishes are prepared as frugally as possible, low in fat, and well transformed, such as sweet and sour fruit rolls of dragon fruit, apples, carrots, etc. In addition, everyone should try the dish. Vegetarian beef noodle soup, sweet broth made from vegetables, and vegetarian beef stir-fried with garlic and ginger have a rich flavor that is no different from ordinary beef noodle soup.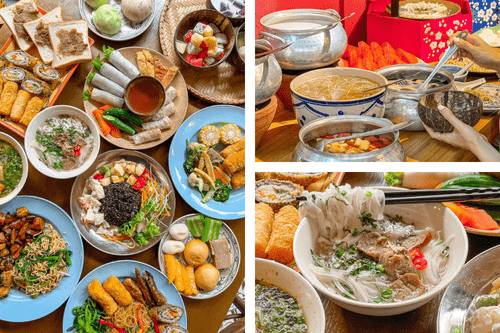 Source: buffetchaytamhoaian
Price: 7 USD/person
Opening hours: from 11:00 to 14:00, evening from 18:00 – 20:00
Facebook: Nhà Hàng Buffet Chay Tâm Hoài An
Address: No. 54C, Lane 12, Dang Thai Mai street, Tay Ho district, Hanoi
IVegan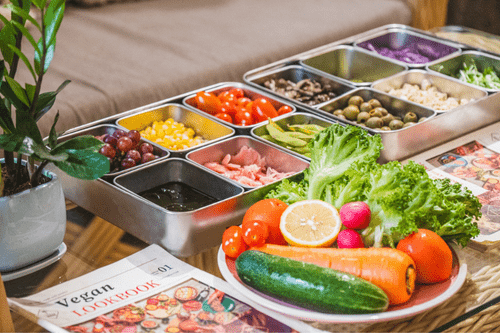 Source: iveganvietnam
Of the many vegetarian and vegan restaurants in Hanoi, the last one is IVegan, a 4-story white-toned, brown wood villa restaurant. Outside there are many trees and greenery. This includes coffee, vegetarian food, and yoga. It also sells scented wax and souvenirs for guests to take home.
About the vegetarian restaurant's menu: Vegetarian food is diverse and does not use sugar to sweeten, so it is good for health. If you come here, you should try the Passio Smoothie bowl. This is one of the shop's bestsellers. If you have never eaten vegetarian food, you can ask the staff for advice because the menu here is extremely diverse.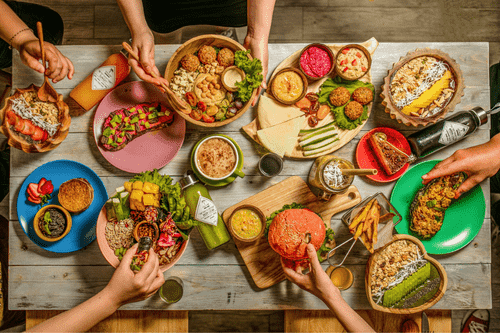 Source: iveganvietnam
Price: 2 – 6 USD
Opening hours: 9:00 – 21:00
Facebook: IVegan Supershop
Address: No. 16 To Ngoc Van street, Tay Ho district, Hanoi
Vegetarianism is a good thing to do, even if you are not a vegetarian; sometimes, a vegetarian meal will help you balance the nutrition in your body and soothe your soul. The above vegetarian places have received a lot of good feedback, hopefully helping you to search for delicious vegetarian and vegan restaurants in Hanoi. Let us know the vegetarian and vegan Restaurants in Hanoi you visited.
TourTeller's Pick – Best Activities in Hanoi