Hongdae is a vibrant Seoul, South Korea, neighborhood renowned for its trendy cafes, lively nightlife, and street performances. However, one of the main reasons people flock to this district is its fantastic Korean cuisine. Whether you're a local or a tourist, Hongdae's restaurants offer an exceptional dining experience that will delight any Korean food lover. In this article, we'll explore the best restaurants in Hongdae for Korean food lovers, their unique offerings, and why they are a must-visit for anyone who appreciates Korean cuisine.
Read also:
Best traditional restaurants in Hongdae
Yoogane Chicken Galbi (Yoogane Dakgalbi Hongdae 1-ho)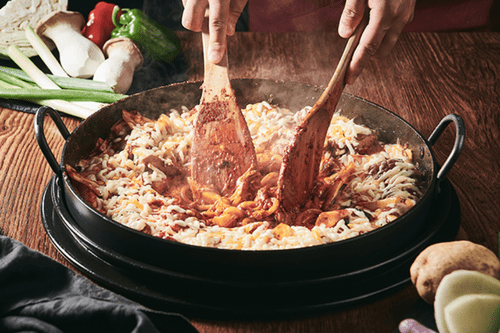 If you're a fan of spicy food and want to explore the vibrant food scene of South Korea, you've got to check out Yoogane Chicken Galbi! This wildly popular restaurant chain has been serving up mouth-watering, stir-fried chicken dishes since 1981, with its original spot in the hip Hongdae neighborhood of Seoul.
The main dish at Yoogane Chicken Galbi is the Dakgalbi. This spicy stir-fried chicken with veggies like cabbage, scallions, and sweet potatoes. The chicken gets marinated in a special sauce made with Korean chili paste, soy sauce, and other spices that give it that yummy, spicy taste. But the best part is that you can customize your Dakgalbi with yummy add-ons like cheese, rice cakes, and noodles, so every dish is uniquely your own.
Apart from the Dakgalbi, Yoogane Chicken Galbi also offers a variety of other dishes, such as fried rice, bibimbap, and Korean-style pancakes. Moreover, the restaurant's menu includes non-spicy options for those who cannot handle the heat.
Open hours: 11:30 AM – 10 PM daily
Phone: +82 2-333-4655
Website: yoogane.co.kr
Price range: 9.9 – 24.75 USD per person
Myth Jokbal Hongdae (미쓰족발)
If you're a fan of pork, then you can't miss the famous Jokbal (pig's trotters) at Myth Jokbal in Hongdae! This restaurant has been serving its deliciously tender and flavorful Jokbal for 30 years, with multiple locations all over Korea. But the Hongdae location is the place to be, with its lively atmosphere and cozy seating.
Not only do they serve traditional Jokbal, but also other delicious dishes like garlic or spicy Jokbal with perilla leaves. The portions are large, perfect for sharing with 2-3 people or even 3-4 people. And let's not forget the mouth-watering sauces that come with it, including soy sauce, miso chili sauce, and sweet chili sauce.
But that's not all. Each order also comes with a bowl of mixed rice with sesame oil, kimchi, salad, and a complimentary noodle soup. No wonder this place is always packed with hungry customers, so be prepared to wait for about 10 minutes for a table. The wait is worth it for the scrumptious Jokbal at Myth Jokbal in Hongdae!
Open hours: 4 PM – 12 AM on Monday and Tuesday, 12:30 PM – 12 AM from Wednesday to Sunday
Phone: +82 2-337-2111
Price range: 10 – 25 USD per person
Okdongsik Seogyo (옥동식 서교점)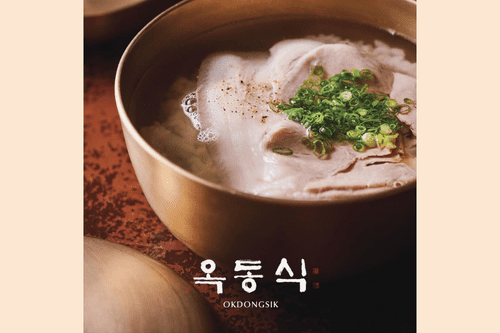 The Okdongsik Seogyo (옥동식 서교점) is a must-visit restaurant. It has gained a reputation for its delicious pork and rice soup, known as 돼지국밥 (dwaeji gukbap), which is perfect for warming you up on a chilly day.
The cozy ambiance of Okdongsik Seogyo creates the perfect setting for a satisfying and hearty meal. The restaurant is always bustling with locals and tourists eager to try the famous pork and rice soup. The soup is made with tender slices of pork belly, simmered in a flavorful broth made with various spices, garlic, and scallions before being served in a rice bowl.
Moreover, the restaurant's inclusion in the Michelin Guide 2018 is a testament to its high quality and delicious food. So, if you want to experience one of Seoul's top-rated dining destinations, head to Okdongsik Seogyo and enjoy the unforgettable flavors of their pork and rice soup.
Open hours: 11 AM – 10 PM every day
Phone: +82 2-6012-9915
Instagram: okdongsik
Baettegi Gobchang (배떼기 곱창)
The Baettegi Gobchang is a cozy eatery famous for serving up some of the most mouthwatering Gobchang (Korean-style grilled beef intestines) in town. This is one of the most popular dishes among locals and tourists alike.
Baettegi Gobchang offers a unique dining experience, with customers seated at low tables surrounded by a cozy and intimate atmosphere. The restaurant's signature dish is Gobchang, made from the small intestines of beef or pork. The intestines are cleaned thoroughly and marinated in a spicy sauce, giving them a rich and savory flavor.
We highly recommend you try Snowflake Makchang (눈꽃막창), which is beef intestines that have been marinated in special spices, giving it a distinctive red color and a unique taste that is not too spicy. The dish is then covered with a thick layer of melted cheese resembling snow, hence the name Snowflake Makchang.
Address: 44-10, Yanghwa-ro 7-gil, Mapo-gu, Seoul
Open hours: 11 AM – 10 PM daily
Phone: +82 2-6082-0064
Price range: 8.5 – 22 USD
Hong Ma Tteok (홍마떡 홍대본점)
Regarding Korean street cuisine, Tteokbokki, or spicy rice cakes, is one of the most well-liked dishes. If you're in love with Tteokbokki and also a fan of garlic? Then you must check out Hong Ma Tteok! This small eatery is tucked away in a cozy alley in Seoul's bustling Hongdae neighborhood and serves up some of the best spicy rice cakes you'll ever taste.
This dish is a twist on the classic Tteokbokki, which is rice cakes in spicy sauce, with the addition of fragrant garlic and the unique flavor of hong ma, or red perilla. The sauce is made with a blend of gochujang, soy sauce, and garlic, giving it a rich and savory flavor that will leave you craving more.
Hong Ma Tteok also offers a variety of other dishes, including fried rice, spicy pork, and kimchi stew. Each dish is cooked perfectly and served hot, a great option for a cozy meal with friends or family.
Open hours: 11:30 AM – 9 PM daily
Phone: +82 2-324-1107
Baeknyeon Tojong Samgyetang Hongdae (백년토종삼계탕 본점)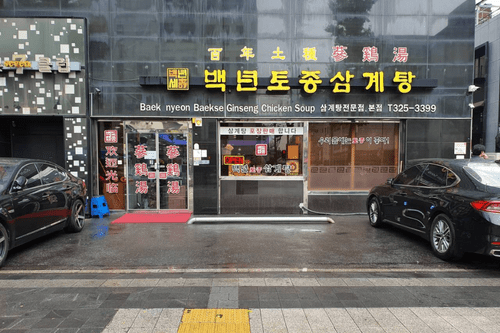 The Baeknyeon Tojong Samgyetang is a popular restaurant in Seoul specializing in samgyetang. This Korean dish is made of whole young chicken stuffed with ginseng, garlic, jujube, and glutinous rice, then boiled in a rich broth. This dish is widely regarded as a healthy food in Korea and is especially popular during the hot summer months as it is believed to help fight heat exhaustion.
The special point is that Baeknyeon Tojong Samgyetang uses a special breed of chicken called baeknyeon. Those are raised on a diet of natural herbs and grains, giving the meat a unique flavor and texture. The restaurant uses only the freshest and highest quality ingredients for their broth, ensuring a rich and delicious flavor in every bowl.
In addition, the restaurant also offers a variety of other dishes worth trying, such as ginseng chicken soup, grilled eel, and various vegetable dishes. The cozy and rustic interior of the restaurant creates a warm and welcoming atmosphere, making it the perfect spot to enjoy a hearty and comforting meal.
Open hours: 9:30 AM – 10:30 PM from Tues to Fri; 10 AM – 10 PM from Sat to Mon
Phone: +82 2-325-3399
Price range: 12 – 23 USD per dish
Makgeolli Salon (막걸리 싸롱)
If you're looking for a unique and cozy spot to enjoy authentic Korean drinks and snacks, then the Makgeolli Salon in Seoul's trendy Hongdae neighborhood is worth visiting.
As the name suggests, the Makgeolli Salon specializes in makgeolli, a traditional Korean rice wine enjoyed for centuries. The salon offers a wide range of makgeolli flavors, including plain, strawberry, and chestnut, all brewed in-house using only the best quality ingredients. Additionally, they also serve up a variety of delicious Korean snacks to pair with your drink. Some must-try dishes are crispy fried chicken, the spicy tteokbokki (Korean rice cakes), and the flavorful kimchi pancake.
The atmosphere at the Makgeolli Salon is warm and inviting. It has rustic wooden tables and a cozy interior, making it the perfect place to catch up with friends or enjoy a relaxing evening out. Makgeolli Salon should be on your list if you want a new experience in Seoul.
Open hours: 3 PM – 2 AM daily
Phone: +82 2-324-1518
Price range: 3.8 – 9.2 USD
gin Dakgalbi (장인닭갈비)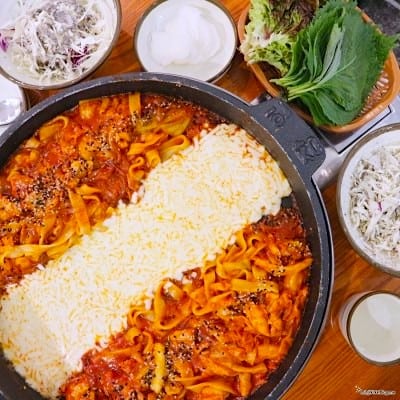 It is a popular Korean dish made with spicy grilled chicken and vegetables like sweet potato, onion, and cabbage. You can choose how spicy you want it and you can add toppings like cheese, bacon, sausage, noodles, and Korean rice cakes.
Koreans eat dakgalbi with Ssam, a traditional method of wrapping the grilled chicken with leafy vegetables like lettuce or sesame leaf. You might have seen it in Korean dramas. It's how the locals here eat and also quite healthy! 🙂
The best part is they have a "self bar" so you can eat as many vegetables as you want without asking anyone.
Address: Eoulmadang-ro 111-1, Mapogu, Seoul
Locate near Hongik University
Time: 11:00 – 24:00
Price: 24,000 KRW (20 USD) for 2 people
Myth Jokbal (미쓰족발)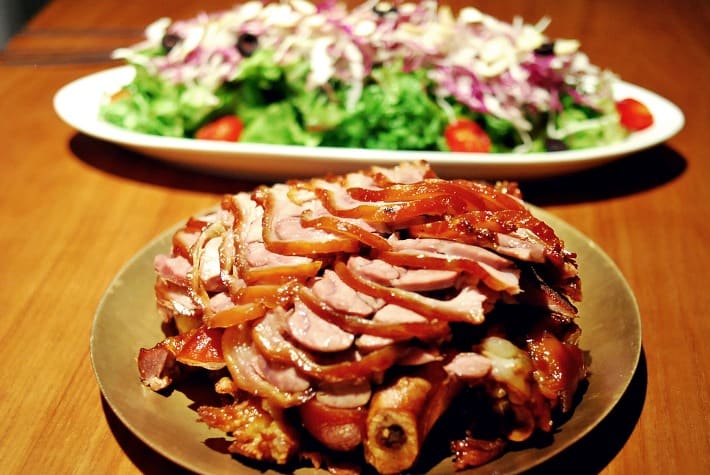 Jokbal might be new to you but a tradition in Korea. It is braised pig trotters with soy sauce and spices. It's chewy and tastes sweet. The jokbal is complemented with side dishes like noodles, spicy soup, salads with olives and almonds, and Korean rice balls.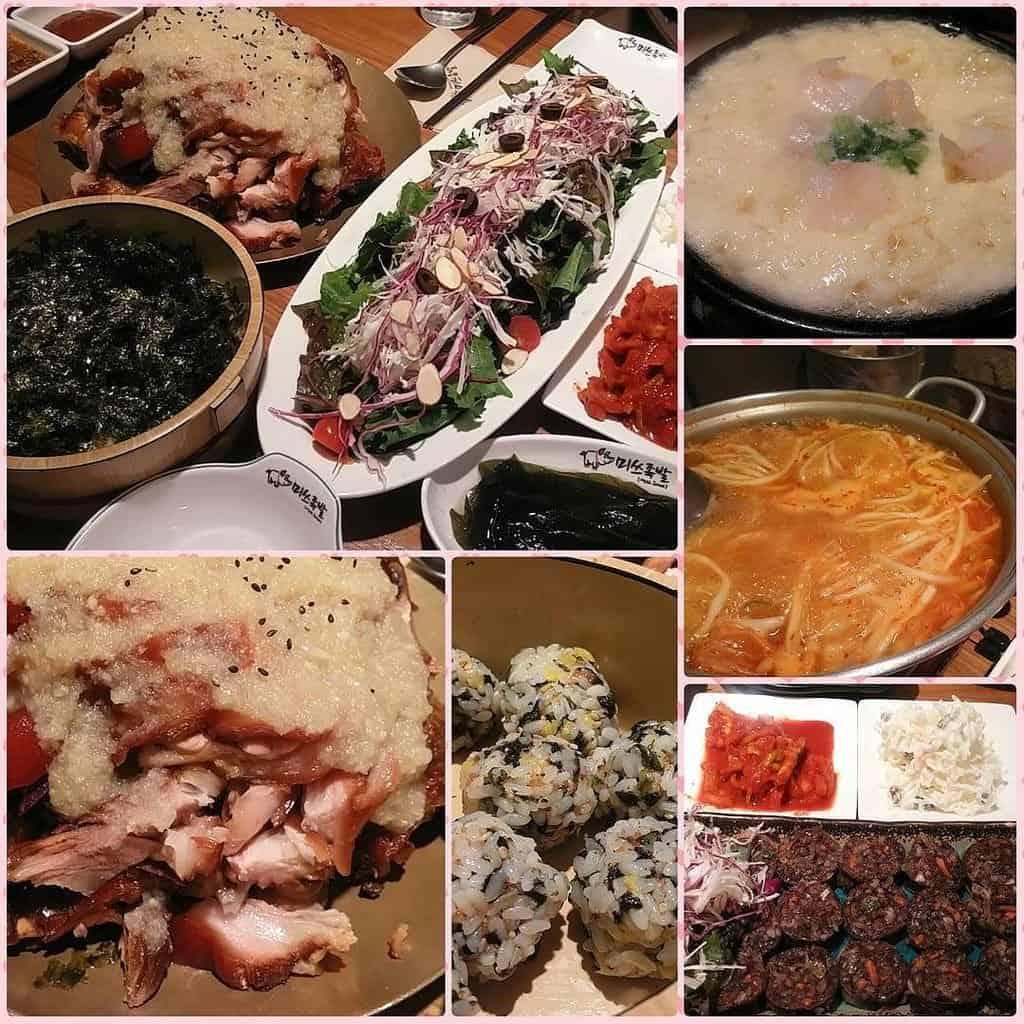 Address: Eoulmadang-ro 123-1, Mapo-gu, Seoul
Located near Hongdae Shopping Street
Time: 12:00 – 04:00
Price: 39,000 – 46,000KRW (35 – 42 USD)
Hong Ma Tteok-Hongdae Garlic Tteokbokki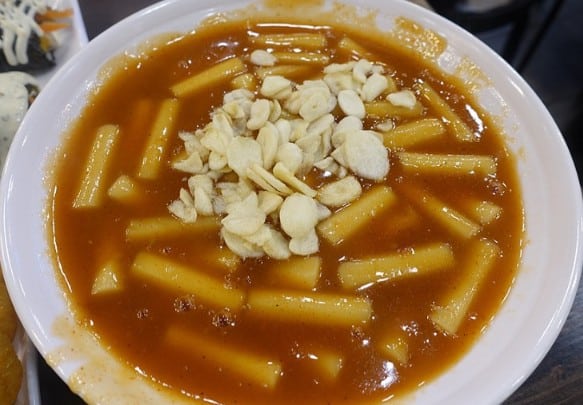 Furthermore, Spicy Korean rice cakes called tteokbokki are the most popular street foods in Korea. If you are in Korea, you have to try the spicy tteokbokki. Here at Hondae Garlic Tteokbokki, the spicy tteokbokki is topped with crispy sliced garlic for the best combination. You might think that garlic might be too strong of a taste but the unique blend has customers waiting to be served. Moreover, the garlic adds a rich taste to the tteokbokki spiciness and you can also order other street foods like cream cheese kimbap and garlic fried shrimp and onion rings.
Address: Seoul, Mapo-Gu Hongik5ro AhnGil24 서울 마포구 홍익로5안길 24
Located in alleyway
Time: 11:30 a.m.-11p.m.
Price: 7,500KRW
Best BBQ restaurants in Hongade
Choigozip Hongdae (최고집 수제돼지갈비)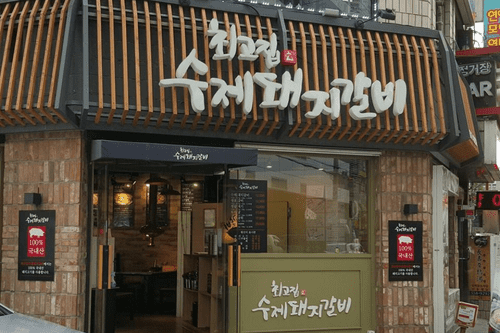 The Choigozip Hongdae is a must-visit restaurant for anyone searching for a truly unique dining experience in Seoul. As a Korean BBQ restaurant, Choigozip offers an all-you-can-eat menu to satisfy meat lovers. The restaurant's interior is stylishly decorated with wooden accents, creating a warm and inviting atmosphere.
The menu at Choigozip is filled with an extensive selection of meats, including pork belly, beef brisket, and marinated short ribs. The menu's highlight is the premium pork belly, marinated to perfection and grilled right before you. The restaurant also offers a range of traditional Korean side dishes, such as kimchi and pickled vegetables, to complement the flavors of the meat. And for those who want to try something unique, the restaurant also serves a delicious grilled cheese corn dish, a must-try.
While all of the meats at Choigozip are worth a try, their signature dish, the Galmaegisal, is a must-try. This premium cut of pork comes from the neck of the pig, offering an unparalleled rich and juicy flavor. Cooked to perfection on the grill, the Galmaegisal pairs perfectly with various side dishes and dipping sauces.
Open hours: 3 PM – 12 AM from Monday to Saturday, 3 PM – 10 PM on Sunday
Price range: 9 – 25 USD
Piggy-Bank Stone Grill (돼지저금통)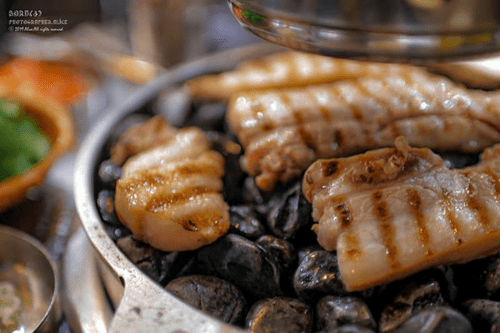 The Piggy Bank is a popular restaurant in Hongdae that offers a unique dining experience. Instead of traditional tabletop grills, diners can cook their meat on a hot stone grill at their table. This method of grilling results in a crispy and flavorful crust on the meat while keeping the inside juicy and tender.
The restaurant offers a variety of meat options, including pork belly, beef brisket, and marinated galbi. They also serve a variety of banchan (side dishes), such as kimchi, pickled radish, and soybean sprouts. The menu also features a selection of Korean alcoholic beverages, such as soju and makgeolli, to accompany the meal.
The restaurant is named after the traditional Korean "piggy bank," a ceramic pig used to store coins. The ceramic pig is believed to bring good luck and prosperity and is often used as a symbol of wealth in Korean culture.
Open hours: 2 PM – 2 AM Monday to Thursday, 12:30 PM – 2 AM Friday to Sunday
Phone: +82 2-323-6292
Tongkeun Galbi (통큰갈비 홍대점)
Looking for an authentic Korean barbecue experience? Head over to Tongkeun Galbi in Hongdae! This restaurant has been a local favorite for years, and for a good reason. The mouthwatering aroma of grilled meat will greet you as soon as you step inside.
The menu offers a variety of meats, including the must-try galbi (marinated beef short ribs), a customer favorite. However, its secret marinade sets Tongkeun Galbi apart from other Korean barbecue places. This is a family recipe passed down for generations. The result is tender, juicy meat bursting with flavor. The banchan, or side dishes, are also a standout feature of Tongkeun Galbi.
The restaurant's interior is cozy and welcoming, with traditional Korean decor adding to the ambiance. The friendly staff will make you feel right at home, and the lively atmosphere is perfect for a fun night out with friends or family. Don't miss Tongkeun Galbi's delicious barbecue and authentic Korean dining experience!
Open hours: 12 AM – 12 PM daily
Phone: +82 2-3142-4166
Price range: from 10 USD
Haha & Kim Jong Kook's 401 Restaurant (하하&김종국의 401 정육식당)
Do you like the popular Korean variety show 'Running Man'? If so, you may be interested that two of the show's panel members, Haha and Kim Jong Kook, have opened their Korean barbecue restaurant in the Hongdae neighborhood. That is Haha & Kim Jong Kook's 401 Restaurant.
The restaurant specializes in Korean barbecue, offering a variety of high-quality meats to grill perfectly at your table. From juicy pork belly to tender beef ribs, there's something for every meat lover to savor. If you're unsure where to start with the menu, we recommend trying the signature galbi (beef short ribs), which are marinated and grilled to tender, smoky perfection. You can also sample the Samgyeopsal (pork belly), a Korean barbecue classic that never disappoints.
But what makes 401 Restaurant truly unique is the opportunity to dine in the presence of Haha and Kim Jong Kook's personal touches. Fans can admire autographed photos, memorabilia, and even the "Running Man" mascot statue while enjoying their meal. Plus, with its trendy and stylish interior, the restaurant is the perfect place to capture an Instagram-worthy moment.
Best Korean noodle restaurants in Hongdae
Choma (초마)
The Choma (초마) is a cozy and lively restaurant known for its lively nightlife and street art scene. It's a must-visit for those seeking a taste of Korea's beloved jjambbong, a spicy Korean-Chinese noodle dish that will satisfy your cravings.
Choma's Jjambbong is made with fresh seafood, including mussels, squid, shrimp, and a mix of vegetables like onions, carrots, and mushrooms. The thick and chewy noodles add to the dish's texture and flavor. The broth is rich, spicy, and slightly sweet, making it a perfect balance of flavors.
In addition to their signature Jjambbong, Choma offers other dishes, such as Jajangmyeon, a noodle dish topped with black bean sauce, and Tangsuyuk, a sweet and sour pork dish. These dishes are also popular among customers and are worth trying when visiting the restaurant.
Yeonhuidong Noodle Soup (연희동칼국수)
The Yeonhuidong Noodle Soup, near Hongdae, is a must-try restaurant for those seeking Korean comfort food. As the name suggests, their specialty is the Korean classic dish of Kalguksu. These are handmade knife-cut noodles served in a piping hot and savory broth.
At Yeonhuidong Noodle Soup, the noodles are made fresh daily using a traditional method that involves kneading the dough with barley flour and boiling the noodles in a rich chicken broth. The soup is then topped with generous portions of tender chicken, beef, and fresh vegetables, making for a satisfying and wholesome meal.
Aside from the classic Kalguksu, the menu at Yeonhuidong Noodle Soup also offers other Korean comfort food dishes such as Kimchi Fried Rice, Jjajangmyeon (black bean sauce noodles), and Mandu (dumplings). The restaurant has a cozy and laid-back atmosphere. So this is absolutely a perfect spot to warm up on a chilly day or enjoy a hearty meal with friends.
Open hours: 11 AM – 9 PM from Tuesday to Sunday, closed on Monday
Phone: +82 2-335-3955
Price range: 7 – 19 USD
Pyeongando Sangwon Naengmyeon (평안도 상원냉면)
This is a famous naengmyeon (cold noodle) restaurant in Hongdae's bustling neighborhood. The restaurant specializes in Pyeongyang-style naengmyeon, a type of cold noodle dish originating from the Pyeongyang region of North Korea.
The restaurant is known for its high-quality ingredients and traditional preparation methods, resulting in a refreshing and flavorful naengmyeon. The noodles are made from buckwheat flour and potato starch, giving them a chewy texture and distinctly nutty flavor. The broth is light yet savory, made with beef bones, perfectly complementing the noodles.
In addition to their classic naengmyeon, Pyeongando Sangwon Naengmyeon also offers a variety of other dishes. Some popular ones are bibim naengmyeon (spicy cold noodles), kalguksu (knife-cut noodle soup), and more. All of their dishes are made with high-quality ingredients and are prepared with care to ensure the best flavor.
Open hours: 11 AM – 2:30 PM from Mon to Sat, closed on Sunday
Phone: +82 2-332-8935
Price range: 7.7 – 15.4 USD
Okdongsik (옥동식)
This Michelin award winning store has captured the hearts of all foodies who come to taste the delicious pork broth soup with rice. The soup is made with black pork bone and meat that is slow cooked. The thinly sliced pork meat is soft and tender and blends perfectly with the rice and soup. There is no msg or artificial ingredients. Also, the kimchi is fresh and well fermented and the ambiance of the restaurant makes you feel comfortable. There is only 100 bowls that are served everyday so come early.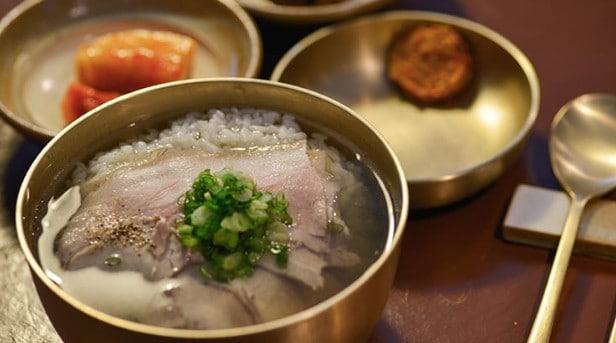 Address: 44-10, Yanghwa-ro 7-gil, Mapo-gu, Seoul
Nearest station Hapjeong Station
Time: Lunch 11:00-14:00, dinner 17:00-19:30 (until sold out)
Price: 8,000KRW- 14,000 KRW
Mashi China (맛이차이나)
The Mashi China is a Chinese-Korean restaurant that has gained popularity among locals and visitors for its delicious jjajangmyeon. Jjajangmyeon is a popular Korean-Chinese noodle dish that consists of a thick black bean sauce mixed with noodles, diced pork, and vegetables. At Mashi China, the jjajangmyeon is a must-try dish. The restaurant's recipe for the black bean sauce has become renowned throughout the area.
Aside from jajangmyeon, Mashi China also offers a wide variety of other Chinese-Korean dishes that are sure to satisfy any craving. Their jjamppong, a spicy seafood noodle soup, is perfect for those who love a bit of heat. Their tangsuyuk, a sweet and sour pork dish, is also a favorite among patrons.
The ambiance of the restaurant is another highlight. The walls are decorated with Chinese lanterns and traditional decorations, creating a cozy and inviting atmosphere.
Open hours: 11:30 AM – 4 PM and 5 PM – 10 PM from Mon to Sat, 11:30 AM – 10 PM on weekends
Price range: 4.5 – 15 USD
Hongdae is a culinary paradise for Korean food lovers, offering a wide range of dining options to suit all tastes and budgets. The 15 best restaurants listed above have garnered a reputation for their delectable dishes, unique atmospheres, and exceptional service. Whether you're a local or a tourist, these restaurants are must-try destinations for any food lover visiting Hongdae. So why not take a culinary journey and experience the best of what Hongdae has to offer?