For nature lovers, Yellowstone National Park has always held an esteemed position on their bucket lists. As the world's first national park, it embodies natural splendor and awe-inspiring landscapes. Encompassing a vast expanse of 2.2 million acres, this iconic destination captivates visitors with its unparalleled hydrothermal and geologic features. From observing abundant wildlife in its pristine ecosystem to exploring geothermal areas boasting an impressive number of active geysers and beholding geological wonders like the majestic Grand Canyon of the Yellowstone River, Yellowstone offers an experience like no other.
While staying within the park is the ultimate choice, it is important to note that accommodations within can be highly sought after. In such instances, selecting lodging near the park entrance offers a convenient alternative while allowing for exploring the surrounding natural beauty. In this article, we will unveil a handpicked selection of the finest lodging options inside and outside the park, ensuring a memorable stay in Yellowstone National Park.
Read also:
Where To Stay Inside Yellowstone National Park
Old Faithful Inn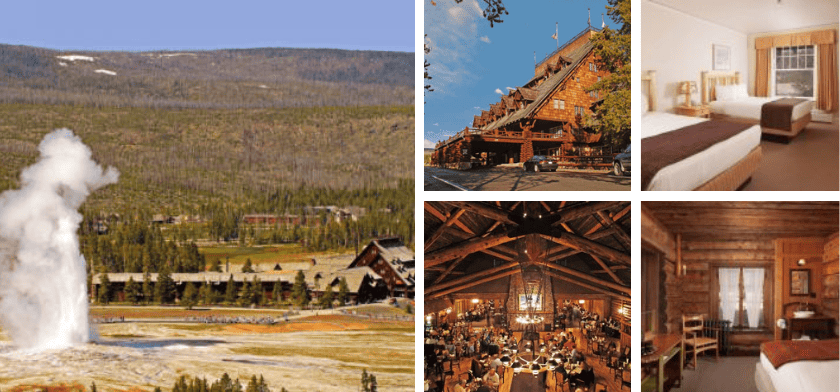 If you want to be next to the famous Old Faithful geyser, look no further than Old Faithful Inn. This place oozes rustic charm and has impressive log architecture that makes you feel like you've stepped back in time. Built between 1903 and 1904 using local logs and stone, it is one of the largest log-style structures globally. The towering lobby, featuring a magnificent stone fireplace and a handcrafted copper, wood, and wrought-iron clock, is a captivating centerpiece.
They've got all sorts of rooms, from simple and cozy to spacious and fancy, so there's something for everyone. Plus, you can't beat the convenience of being just a stone's throw away from the mesmerizing eruptions of Old Faithful. Don't forget to check out their dining room, lounge, and gift shop for all your food and souvenir needs. They've got the Bear Paw Deli for quick bites, the Old Faithful Inn Dining Room for that rustic log cabin feel, the Old Faithful Lodge Cafeteria & Bake Shop for delicious grub, the Geyser Grill and the fancy-schmancy Obsidian Dining Room.
Lake Yellowstone Hotel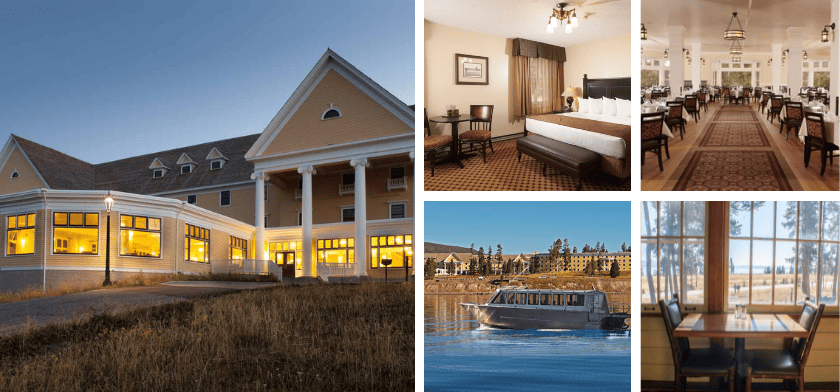 Want to feel like you've traveled back to a more elegant era? Then you'll love Lake Yellowstone Hotel, the oldest hotel in the park. It's right on the shores of Yellowstone Lake, so you'll be treated to some seriously stunning views. The hotel's got that classic charm with its colonial revival style, and they offer a variety of comfy rooms and suites to suit your fancy. And their dining room is top-notch. Not only will you get delicious food, but you'll also get to enjoy panoramic lake views while you eat. Talk about a win-win!
Please note that the hotel operates exclusively during the summer, from May 12, 2023, until October 1, 2023. This limited availability makes each visit all the more special as you savor the captivating charm and natural beauty that surrounds Lake Yellowstone Hotel.
Canyon Lodge and Cabins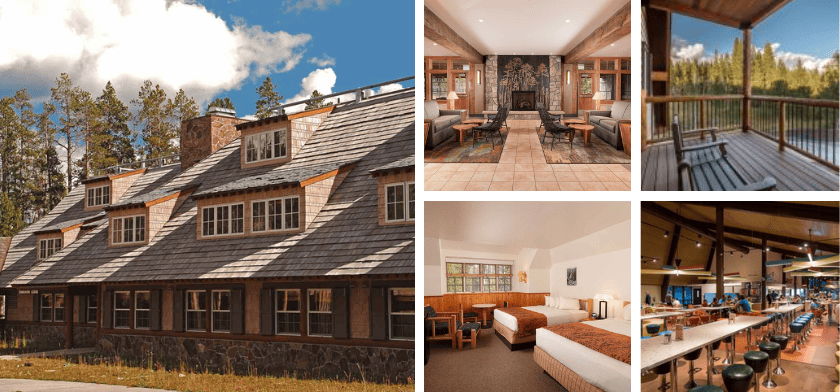 If you're all about modern comforts and being right in the middle of the Grand Canyon of Yellowstone, Canyon Lodge and Cabins is where it's at. With over 500 rooms and cabins, it offers many options for your stay. Located on the park's east side near the majestic Grand Canyon of the Yellowstone River, Canyon Lodge is open from mid-May to early October, allowing you to embrace the park's enchantment during its prime seasons.
They've got all the modern amenities you could ask for, from comfy rooms to cozy cabins. And the best part? You'll easily access some of the park's best hiking trails and scenic viewpoints. So, get ready to feast your eyes on some jaw-dropping canyon vistas. And when you're hungry, they have a cafeteria-style restaurant and a deli to satisfy your cravings. Don't forget to check out their gift shop and general store for all your shopping needs.
Mammoth Hot Springs Hotel and Cabins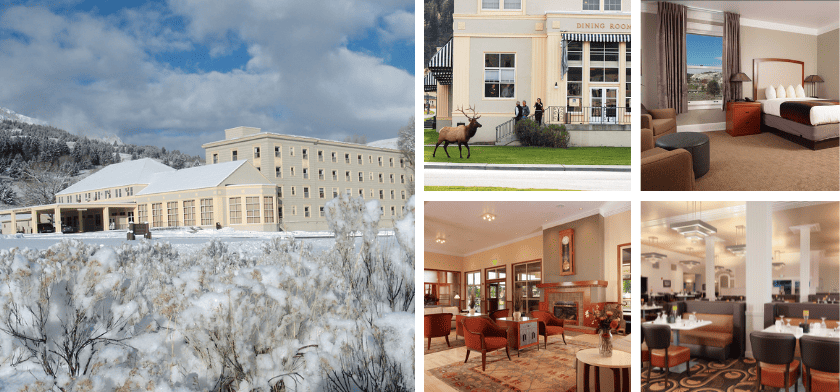 When you stay at this hotel, get ready to be wowed by the amazing Mammoth Hot Springs terraces. It's got cool Victorian-style architecture that adds to the whole experience. You can choose from many inviting rooms and cabins that'll make you feel at home. But the real showstopper is the Map Room—prepare to be blown away! It's decked out with a stunning wooden map of the United States made from 15 different types of wood worldwide.
And the location? It's perfect for wildlife enthusiasts because you'll have easy access to prime wildlife viewing areas. If you're visiting during winter, get ready for some epic adventures. Mammoth Hotel is your gateway to guided tours of Yellowstone's hotspots, like Lamar Valley, the Grand Canyon, and the famous Old Faithful. And for all, you snow lovers, the Bear Den ski shop has everything you need—from gear to lessons—to make the most of your cross-country skiing and snowshoeing escapades. And when you're ready to refuel, their dining room serves up tasty meals that'll hit the spot.
Grant Village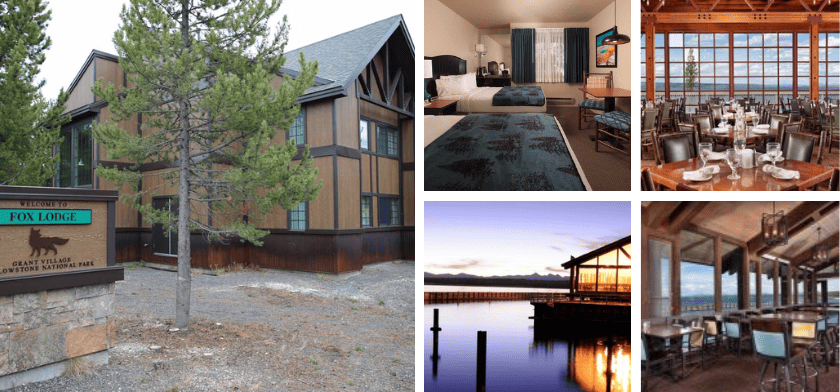 Grant Village is where you want to be if you're all about that lakeside life. It's right on the shores of Yellowstone Lake, so you'll have the most relaxing and serene getaway. Named after Ulysses S. Grant, the 18th President of the United States, Grant Village boasts a peaceful ambiance that perfectly complements the surrounding natural beauty.
The village comprises six two-story buildings, each housing 50 rooms. It's worth noting that there are no elevators, adding to the rustic charm and providing a unique experience. They've got a bunch of cozy rooms and cabins, so you can choose whatever floats your boat. Speaking of boats, they've even got a marina where you can rent one and explore the beautiful lake. And when hunger strikes, their restaurant, and lounge will satisfy your cravings while you take in the gorgeous lake views. Grant Village is the perfect spot for fishing, hiking, or simply unwinding amidst nature's beauty. Plan your visit for the summer of 2023, as Grant Village opens its doors on May 26 and warmly welcomes guests until October 1.
Lake Lodge Cabins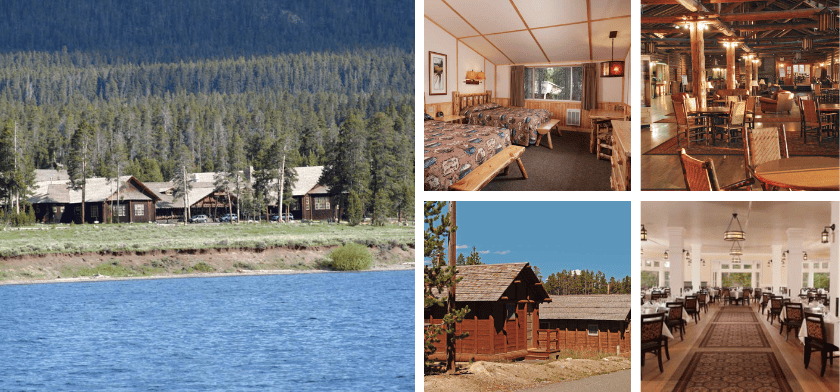 Tucked away in a serene corner near the glistening Yellowstone Lake, Lake Lodge Cabins offer a tranquil and cozy retreat. Surrounded by nature's beauty, these cabins provide a peaceful escape for those seeking a quieter stay away from the busier areas of the park.
Behind the main lodge, you'll find a collection of 186 cabins, each equipped with private baths. These cabins have been recently renovated and come in various styles, including Western, Frontier, and Pioneer. Whether you prefer modern comforts or a more rustic experience, Lake Lodge Cabins has the perfect accommodation to suit your needs.
Open from early June through the end of September. Lake Lodge Cabins invites you to unwind and create lasting memories during the peak season of Yellowstone's splendor. The main lodge welcomes guests with a delightful lobby, two cozy fireplaces, a welcoming lounge, and a charming gift store. It's the perfect place to relax, socialize, and immerse yourself in the friendly atmosphere.
Old Faithful Snow Lodge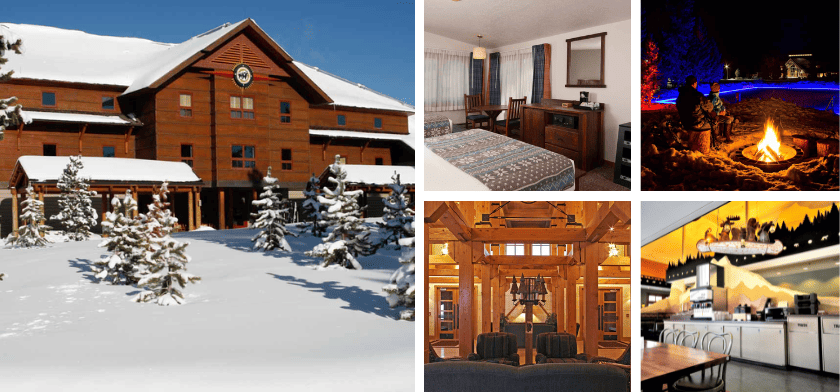 Experience the magic of Yellowstone in both summer and winter at Old Faithful Snow Lodge. Built-in 1999, Old Faithful Snow Lodge boasts a modern and cozy design that seamlessly blends with the surrounding natural beauty. The lodge features various comfortable and well-appointed rooms, allowing guests to relax and unwind after exploring the park.
Its prime location sets this lodge apart, providing easy access to the iconic Old Faithful geyser and the mesmerizing Upper Geyser Basin. Whether you're marveling at the explosive eruptions of Old Faithful or immersing yourself in the geothermal marvels of the basin, Old Faithful Snow Lodge ensures a memorable and convenient stay.
Bridge Bay Campground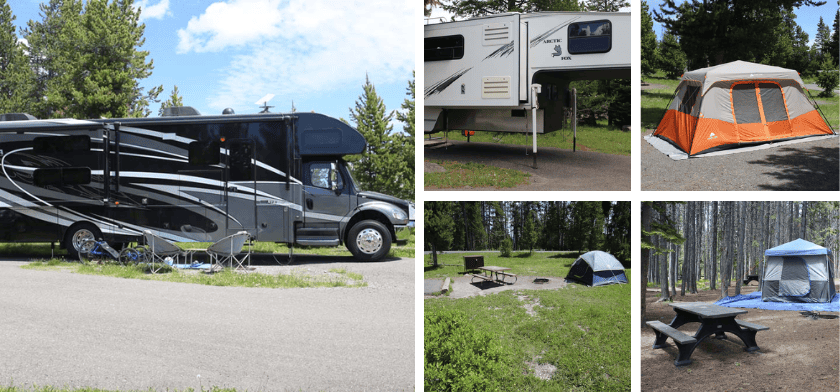 If you're an outdoor enthusiast who prefers the simplicity of camping, Bridge Bay Campground is a popular choice. Set against the backdrop of the picturesque Yellowstone Lake, this campground offers tent and RV sites for an authentic and immersive experience in nature. Fall asleep under the starlit sky, wake up to the soothing sounds of nature, and spend your days exploring the park's wonders. Located near the lake, you can fish or enjoy a leisurely lakeside stroll. Bridge Bay Campground is the perfect base for embracing the beauty of Yellowstone while immersing yourself in the camping lifestyle.
Where To Stay Outside Yellowstone National Park
Sage Lodge (Pray, MT)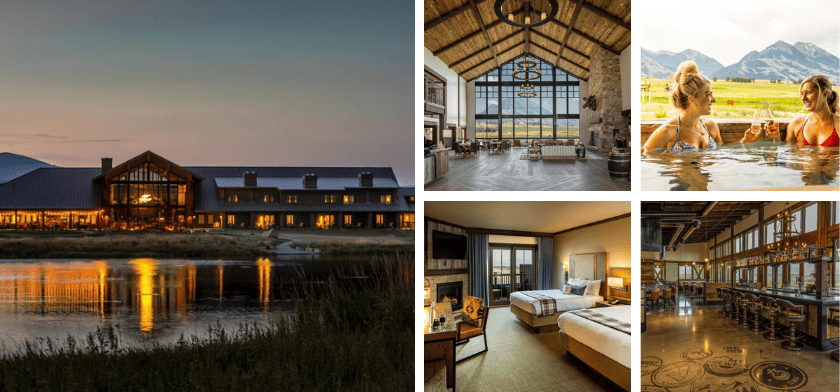 Sage Lodge, situated along the scenic banks of the Yellowstone River and only a short 35-minute drive north of Yellowstone National Park, provides an exceptional Montana luxury resort experience. Its picturesque location is the perfect base camp for embarking on a day filled with thrilling adventures such as fly fishing, hiking, biking, cross-country skiing, and various outdoor pursuits that beckon your adventurous spirit.
Beyond outdoor pursuits, Sage Lodge offers an array of amenities to enhance your stay. Rejuvenate your senses at the spa, where skilled therapists provide revitalizing treatments inspired by the natural elements of Montana. Relax by the cozy fireplace or dip in the refreshing pool, immersing yourself in the tranquility of the lodge's serene ambiance.
Montage Big Sky (Big Sky, MT)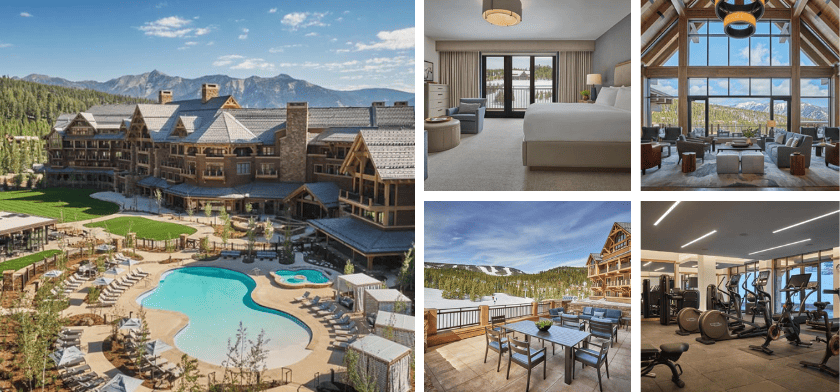 Nestled in Montana's picturesque Big Sky Country, Montage Big Sky is a luxury resort that embodies the adventurous spirit of the Mountain West. With its stunning location near the Spanish Peaks and just 45 minutes from Yellowstone National Park, this premier destination offers a range of experiences for every season. You can choose from 100 beautifully designed guestrooms, suites, and 39 luxurious residences.
You can embark on thrilling outdoor activities like skiing, fly-fishing in renowned rivers, or hiking through rugged trails, embracing the wonders of nature at your own pace. With ski-in/ski-out access to Big Sky Resort, you can hit the slopes and indulge in exhilarating winter adventures. You can also find serenity and relaxation at Spa Montage, where you can unwind amidst the tranquil surroundings. Treat your taste buds to delectable mountain-inspired cuisine while soaking in the panoramic views surrounding you.
Faithful Street Inn (West Yellowstone, MT)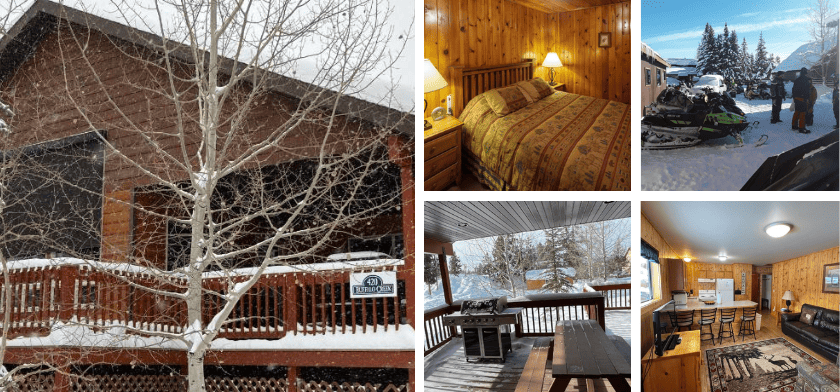 Situated just outside the West Entrance of Yellowstone, Faithful Street Inn provides cozy and comfortable accommodations for visitors. At Faithful Street Inn, you will find a range of cozy and well-appointed accommodations, including cabins and vacation rentals, including options with kitchenettes and private bathrooms, providing a comfortable home away from home. You can relax on the inviting porches, enjoy the warmth of the fireplace, and appreciate the inn's convenient proximity to Yellowstone's wonders.
Explorer Cabins at Yellowstone (West Yellowstone, MT)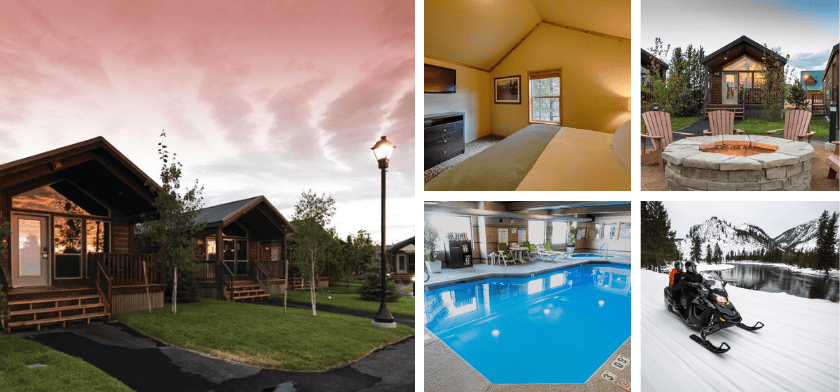 Unwind and embrace the laid-back vibes at Explorer Cabins at Yellowstone, right in the heart of West Yellowstone. With 50 rad cabins in five unique camp settings, you'll experience a sense of community while still enjoying your retreat. It's the ultimate spot for creating awesome memories with your crew, whether you're on a family adventure or a romantic getaway.
Each cabin is thoughtfully designed to provide a cozy and inviting atmosphere, featuring fine linens, a flat-screen TV, and a convenient kitchenette for preparing your favorite meals. As a special welcome treat, you'll receive a complimentary S'mores kit to enjoy by our inviting community fire pit. Plus, they also have dog-friendly cabins. So bring your furry sidekick along for the ride!
Absaroka Lodge (Gardiner, MT)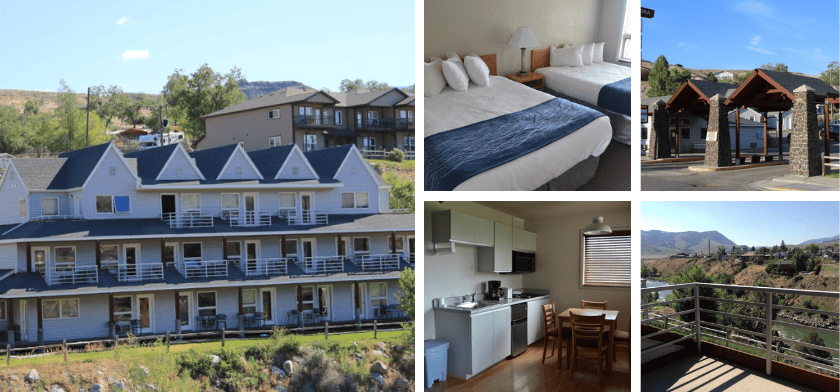 Imagine stepping outside your accommodations and being greeted by the gentle sounds of the Yellowstone River flowing by. Absaroka Lodge provides an idyllic setting where you can relax and immerse yourself in the tranquility of nature. Whether you're enjoying a cup of coffee on your private porch or taking a stroll along the riverbank, the beauty of the surroundings will captivate you.
Just minutes away from the North Entrance of Yellowstone National Park, you can easily embark on unforgettable adventures. After a day of exploration, return to the lodge and unwind in the peaceful ambiance. Gather around the outdoor fire pit, exchange stories with fellow travelers, and bask in the warmth of Montana hospitality.
Under Canvas Yellowstone (West Yellowstone, MT)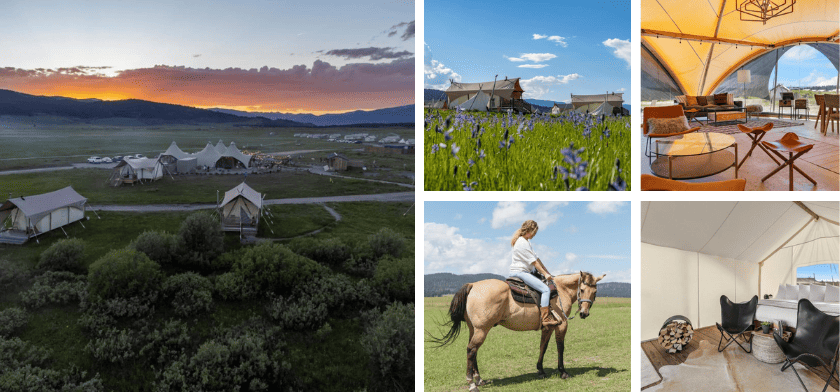 This is a prestigious resort ranked among the 'Top 20 Resorts in the U.S. – Pacific Northwest & West' by Condé Nast Traveler. Situated only 10 minutes from the main entrance of Yellowstone National Park, this extraordinary destination serves as your gateway to the remarkable natural wonders of Montana.
At Under Canvas West Yellowstone, you'll stay in lavish safari-style tents. Each tent is well-appointed, with comfortable furnishings, cozy beds, and private bathrooms. Guests can enjoy nature's beauty while still enjoying modern amenities and comforts. The campsite also offers various activities and opportunities for stargazing, campfires, and wildlife encounters.
In conclusion, I hope this article has been instrumental in helping you select the ideal place to stay during your visit to Yellowstone National Park. Whether you stay within the park or nearby, you will be treated to a lifetime journey. Don't miss out on the chance to witness the grandeur of Yellowstone. Start planning your visit now and create unforgettable memories in this remarkable natural wonderland.