Unleash your family's inner adventurer in Key West, the ultimate playground of fun, excitement, and cherished memories. With its rich history, natural beauty, and welcoming ambiance, Key West is the perfect destination for families seeking unforgettable experiences together. From captivating attractions to cultural treasures, Key West offerings promise an unforgettable journey for all. Check out the listed Key West family-friendly things to do in this article, and let the adventure begin!
Read also:
Fury Water Adventures – Take a Family-Friendly Snorkeling or Dolphin Watching Trip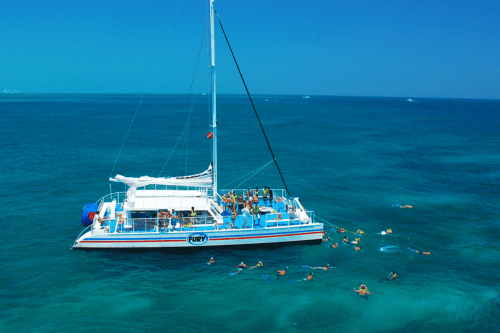 Indulge in the ultimate aquatic adventure with Fury Water Adventures, where you can embark on an unforgettable family-friendly snorkeling or dolphin-watching trip. Step aboard their spacious catamaran and sail to North America's only living coral reef, ready to explore its vibrant underwater world.
With the guidance of an experienced crew, you and your family can descend into the depths and witness the captivating beauty of the coral reef alongside a multitude of enchanting marine life. Marvel at the graceful bottlenose dolphins as they frolic in their natural habitat, a sight that will leave both children and adults in awe.
To add to the excitement, we'll take you to the backcountry for an exhilarating snorkeling experience of your own. This adventure promises to be a highlight for nature enthusiasts, combining the best of Key West's aquatic wonders. And rest assured, Fury Water Adventures is proud to hold the esteemed Dolphin SMART designation, ensuring responsible and ethical dolphin observation throughout your journey. They also offer an array of exciting options to cater to every adventurer's taste, such as sunset trail, glass bottom boat, and parasailing.
Check Out Key West's Dolphin Watch and Snorkel Cruise
Key West Aquarium – Get Up Close With Marine Life and Learn About Conservation Efforts
If you're looking for an exciting and educational activity for your family in Key West, the Key West Aquarium will not be missed! This fantastic attraction is home to marine animals, including jellyfish, sharks, and many others. Guests of all ages can enjoy interactive conservation talks and animal feedings, making it a fun and informative experience for the whole family.
Your little ones will be captivated by the stunning marine life exhibits that showcase the incredible creatures of the surrounding waters. From graceful sea turtles to ferocious sharks, the aquarium has something for everyone to marvel at. But what makes the Key West Aquarium unique is its emphasis on marine conservation. You'll be impressed by the aquarium's commitment to educating visitors about the importance of preserving our oceans and marine life.
Be sure not to miss the daily shark and sea turtle feedings, which are always a crowd favorite. Your kids will be thrilled to watch the aquarium's resident sharks and sea turtles being fed and learn more about their amazing lives. It's an incredible experience your family will cherish for years. You can get a ticket on-site or book an online one on their website.
Open hours: 9 AM – 5 PM daily
Ticket: From 21.43 USD
Phone: +1 305-296-2051
Website: keywestaquarium.com
Check Out Key West's Aquarium Tickets
Key West Ghost and Mysteries Tour – A Family-Friendly Tour of Key West's Spooky Legends and Haunted Places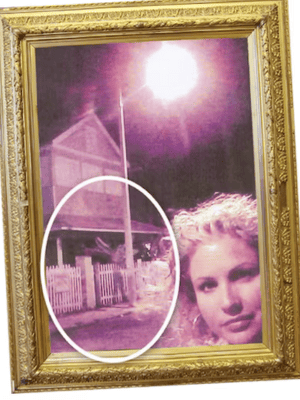 Are you ready to embark on a thrilling adventure into the mysterious and eerie side of Key West? Join the Key West Ghost and Mysteries Tour. This 90-minute family-friendly journey will take you off the beaten path, revealing the hidden hauntings and enigmatic tales that lurk in the shadows of old town Key West.
As Florida's second oldest city, Key West holds a captivating history filled with colorful characters and spirited tales that will send shivers down your spine. Throughout the tour, you'll hear firsthand accounts from previous guests who have encountered the unexplained, so make sure to have your camera ready to capture any supernatural moments that may arise.
The tour will lead you to explore a variety of intriguing locations, including haunted Victorian mansions that echo with the whispers of the past, Key West's oldest graveyard where restless spirits roam, and the bewitching presence of Robert the Doll, known for his eerie reputation. You'll also venture into haunted pubs where ghostly encounters have been reported and delve into the chilling stories of Count Von Cosel and Eleyna and the enigmatic figure known as The Watcher.
Key West Ghost and Mysteries Tours
Dry Tortugas National Park – Take a Boat Trip to a Remote Island and Explore a Historic Fort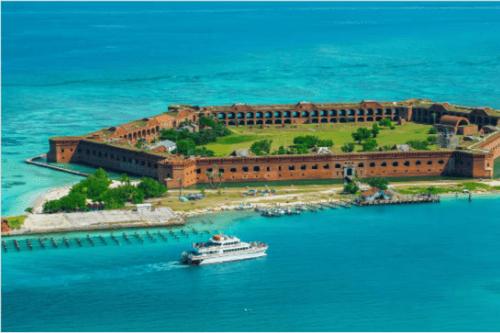 Tucked away in the heart of the Gulf of Mexico, a hidden gem awaits Dry Tortugas National Park. Comprised of seven small islands, this eco-wonderland is unlike any other destination on Earth. To get to the island, you'll need to embark on a boat trip that promises an adventure of its own. Your family will enjoy scenic views of the surrounding waters and have the chance to spot dolphins, whales, and other marine creatures along the way.
The park's star attraction is undoubtedly Fort Jefferson, an awe-inspiring brick fortress that has stood the test of time since the 1800s. With its massive walls, moat, and gun emplacements, the fort is a sight and a history lesson come to life. Your kids will be delighted to explore this fascinating historical monument on a guided tour or through independent discovery.
Dry Tortugas National Park is also home to crystal-clear waters teeming with marine life. Your kids will be delighted to snorkel, swim, or dive in these pristine waters, coming face-to-face with tropical fish, colorful coral reefs, and majestic sea turtles. The park's sandy beaches provide ample space for sunbathing, picnicking, and simply soaking in the breathtaking natural beauty of the surroundings.
Fort Zachary Taylor State Park – Discover Key West's History and Beaches While Enjoying a Picnic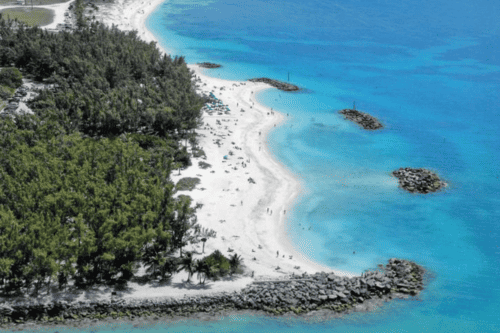 Prepare for an unforgettable family adventure at Fort Taylor in Key West, where excitement and enjoyment await you and your children. Discover a world of exploration and learning that will leave lasting impressions on your little ones.
Step through the gates of Fort Taylor, a captivating site that predates the Civil War, and watch your children's eyes light up with excitement. Wander along the red-brick corridors, allowing their imaginations to transport them back in time. Children can envision themselves as brave soldiers defending the coastline here. The cannons and gun ports will spark their curiosity, making history come alive before their very eyes.
Don't miss the chance to witness history come alive during the third weekend of each month when local re-enactors conduct captivating historical demonstrations. This immersive experience will transport your family back in time, allowing you to witness the past in action. Your child will be enthralled by the sights and sounds, gaining a deeper understanding of the historical events that shaped our nation.
In addition, Fort Taylor also offers Key West's favorite beach, located at the southern end of the park. You and your family can enjoy a delightful day of relaxation and play here. Your child will love building sandcastles, splashing in the crystal-clear waters, and perhaps even spotting colorful fish while snorkeling. Set a picnic under the warm sun, savoring delicious treats and enjoying quality time together. The park's natural beauty provides the perfect backdrop for creating lasting family memories.
Open hours: 8 AM – 5 PM daily
Admission: 2.5 – 6 USD (Some activities in state parks require additional fees)
Phone: +1 305-292-6713
Website: floridastateparks.org
See Fort Zachary Taylor Tours
The Conch Tour Train – A Fun and Informative Tour of Key West's Landmarks and History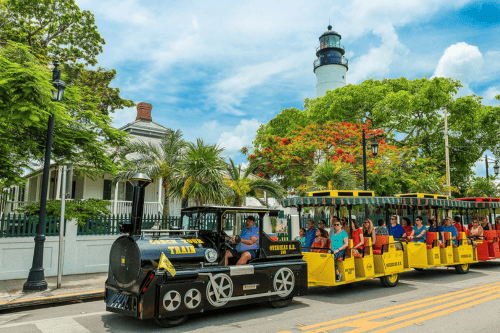 Wandering around Key West with the Conch Tour Train is a fantastic way to bond with your loved ones and create lasting memories. As you traverse the streets, you'll share laughter, learn together, and appreciate the beauty of this tropical paradise in the company of those you hold dear.
This captivating tour begins at the 501 Front Street Depot, right where it concludes in the vibrant Mallory Square. As you secure your ticket and step aboard, prepare for an immersive 75-minute experience that will transport you through the fascinating history of this enchanting island.
The Conch Tour Train takes you on a memorable loop through Old Town Key West, unveiling its hidden gems and iconic landmarks. Throughout the journey, you'll have the chance to make three exciting stops, each offering unique attractions and delights. The first stop takes you to the Station Depot, where you can enjoy a leisurely break, browse through charming shops, and indulge in delightful snacks. At the second stop, Truval Village, immerse yourself in the vibrant ambiance of the Historic Key West Seaport. Explore iconic attractions, meander through captivating streets, and discover hidden gems of culture and history. Finally, arrive at the third stop, the Sails to Rails Museum, where you'll uncover the fascinating story of Key West's transportation evolution.
Schedule: 10:15 AM – 4:15 PM daily, closed the last Saturday in October (Fantasy Fest)
Ticket: from 37.86 USD, you can buy on their website or buy on-site
Phone: +1 305-294-5161
Website: conchtourtrain.com
See Key West's Conch Tour Trains
Key West Shipwreck Treasure Museum – Learn About Key West's Rich Maritime History and See Authentic Treasure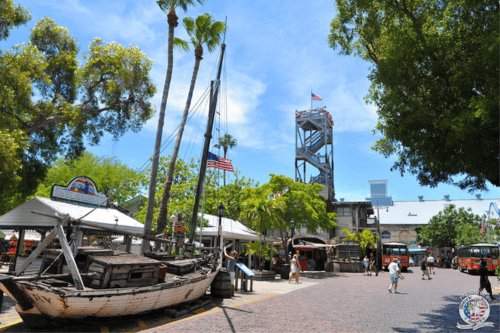 If you're looking for an exhilarating and educational experience for your family, look no further than the Key West Shipwreck Treasure Museum. Step into a world of adventure where you and your loved ones can immerse yourselves in the rich maritime history of Key West and embark on a journey that will captivate your senses.
At the Key West Shipwreck Treasure Museum, you can embark on an interactive exploration that will ignite your imagination and engage your curiosity. Discover the captivating stories of sunken ships, courageous sailors, and legendary pirates who once roamed these treacherous waters. Marvel at the authentic treasures recovered from the sea depths, offering a glimpse into a bygone era.
The museum offers a range of thrilling activities for the entire family. Your kids will be thrilled to participate in treasure hunts, decode secret messages, and unearth hidden gems. They can also try their hand at mastering maritime skills such as knot tying and navigation, providing them with a hands-on experience that brings history to life.
Open hours: 9 AM – 5 PM daily
Ticket: 9.66 USD for children | 18.26 USD for adult
Phone: +1 305-292-8990
Website: keywestshipwreck.com
Key West Ghost and Mysteries Tours
Key West Trolley Tours – A Fun and Easy Way to Explore Key West's Sights and History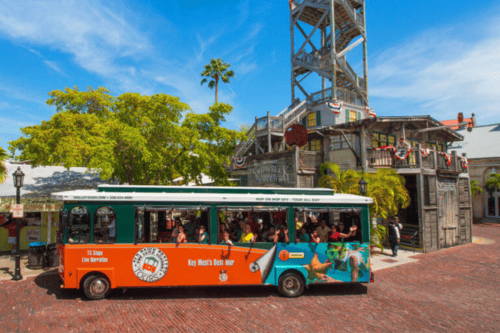 The Key West Trolley Tours offer a fun and easy way to explore the sights and history of this enchanting island. Hop aboard one of the charming trolleys and embark on a memorable journey through Key West's fascinating past and vibrant present.
The best part? You can hop on and off the trolley at any designated stop. This allows you to customize your itinerary and explore at your own pace. Do you want to spend more time at a particular attraction or venture off the beaten path? That's not an issue. The all-day ticket provides plenty of time to immerse yourself in Key West's rich history and vibrant culture. Forget about long walks between attractions, as our trolleys make frequent pickups at each stop, making transportation a breeze. Relax and let knowledgeable guides regale you with fascinating stories and fun facts about the city's iconic landmarks, hidden gems, and famous sights.
For families, the trolley tours are particularly enjoyable. Kids will love the open-air experience, as they can feel the refreshing sea breeze and observe the colorful surroundings from the trolley's comfortable seats. The guides often share engaging stories and anecdotes that will captivate the imaginations of young ones, making the tour educational and entertaining for all ages.
Open hours: 10 AM – 4:30 PM daily
Ticket: from 37.86 USD
Phone: +1 305-296-6688
Website: trolleytours.com
Key West Trolley Tours
Key West Butterfly and Nature Conservatory – A Magical Experience Among Hundreds of Butterflies and Exotic Birds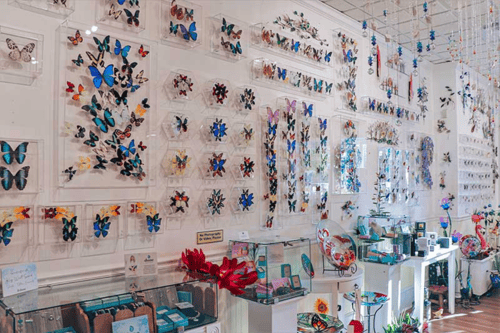 The Key West Butterfly and Nature Conservatory are proud to have been recognized as the "Best Place to Take the Kids" and the "Best Attraction in Key West." It's a testament to the magical experience that awaits you and your family.
The Key West Butterfly and Nature Conservatory invite you to embrace the extraordinary and witness the delicate harmony of life unfolding before you. Step into this world of wonder and let the magic of butterflies, birds, two magnificent flamingos, and nature captivate your heart and ignite your imagination. It's an experience that will leave you with cherished memories and a deeper appreciation for the remarkable beauty surrounding us.
After your enchanting tour, take a moment to explore the unique Gift Shop. You'll discover a wide array of butterfly and nature-related items. Whether looking for a keepsake to remember your visit or a special gift for a nature lover, the Gift Shop offers a diverse selection to suit every taste.
Open hours: 9 AM – 5 PM daily
Admission: 13.98 USD for adults | 11.83 USD for children
Phone: (305) 296-2988
Website: keywestbutterfly.com
Butterfly and Nature Conservatory Tour
Key West Eco Tours – Explore Key West's Mangrove Forests and Wildlife With a Knowledgeable Guide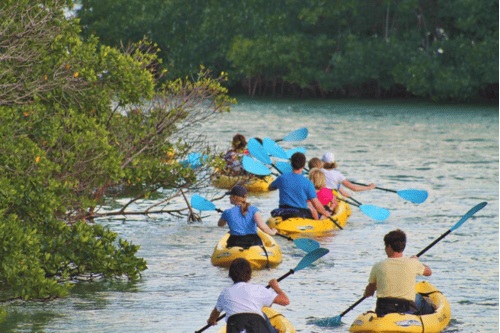 Ready to embark on an extraordinary eco-adventure? Book your Key West Eco Tour today and let the wonders of the mangrove forests and wildlife unfold before your eyes. The knowledgeable guides from Eco Tours of Key West are passionate about conservation and are eager to share their expertise with you. Gain insights into the delicate balance of this fragile ecosystem and the ongoing efforts to protect it for future generations.
As you journey through the mangrove forests, prepare to be enchanted by the sights and sounds that greet you. Marvel at the intricate root systems that weave together to form a labyrinthine network, providing sanctuary for diverse wildlife. Keep your eyes peeled for vibrant fish darting beneath the surface, graceful birds soaring above, and the playful splashes of dolphins in their natural habitat.
Key West Eco Tours ensures a seamless and enjoyable experience for all participants. They provide all the necessary equipment, from kayaks and life jackets to snorkeling gear, so you can focus on immersing yourself in the natural wonders without any worries. Whether you're an experienced nature enthusiast or a first-time explorer, their friendly and professional staff will ensure your comfort and safety throughout the journey.
Address: 5 Geiger Road, Key West, FL 33040 | 220 Margaret Street, Key West, FL 33040
Phone: 305 294 7245
Ticket: from 65 USD
Website: keywestecotours.com
TourTeller's Pick! – Eco Tours & Little White House Tour
Key West Food Tours – Taste the Flavors of Key West While Learning About Its Culinary Traditions and Culture.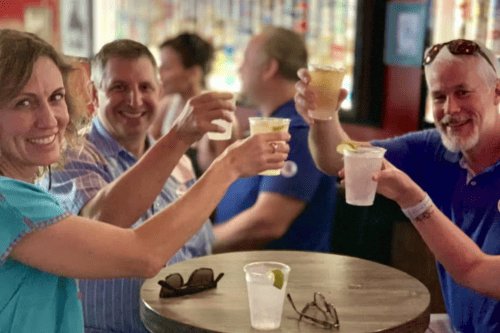 Calling all foodies! If you have an insatiable appetite for incredible cuisine, then a Key West Food Tour is an absolute must! Prepare yourself for a delectable adventure that will tantalize your taste buds. The rich culinary traditions and culture of Key West will not disappoint you.
Key West Food Tours offers an enticing selection of curated food-centric experiences. That will awaken your senses and transport you to gastronomic bliss. You'll embark on a mouthwatering exploration through the city's culinary hotspots, led by knowledgeable guides passionate about food.
From fresh seafood delicacies sourced from the pristine waters surrounding the island to tropical-infused creations that fuse Caribbean and Floridian influences, each bite celebrates flavor and creativity. But it's not just about the food. Key West Food Tours goes beyond the plate. They delve into the fascinating history, traditions, and local stories that shape Key West's culinary landscape. As you wander charming streets, your guide will regale you with captivating tales of the island's past, the vibrant community, and the culinary influences that have shaped its unique character.
TourTeller's Pick! – Food Tours
Ernest Hemingway Home and Museum – Discover the Life and Legacy of the Famous Writer and His Beloved Cats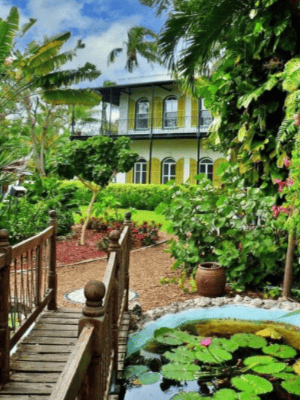 Are you and your family passionate about literature and fond of feline companions? If so, the Ernest Hemingway Home and Museum offer an extraordinary adventure that will captivate both young and old alike.
As you explore the meticulously preserved rooms and immerse yourself in the ambiance, your family can better appreciate the literary genius who once resided here. Picture yourselves in the study where Hemingway's timeless stories came to life or in the cozy corners where his creative spirit thrived. It's an opportunity to connect with the essence of Hemingway's craft and be inspired by his remarkable journey.
But that's not all that awaits you. The Hemingway Home is a sanctuary for approximately 60 polydactyl (six-toed) cats, known for their extra toes and unique charm. Your kids will be delighted to meet these feline friends as they roam freely through the grounds. They can observe their playful antics, stroke their silky fur, and even learn about the unique genetic trait that makes them distinctive. Alongside, there's also a lush garden and a tranquil pool area. Take a moment to breathe in the scent of blooming gardenias and let your imagination transport you to a summer evening in Hemingway's time.
Open hours: 9 AM – 5 PM daily
Ticket: 7 USD for children | 18 USD for adults | Tickets are only available at the main gate, cash only, and no reservation.
Phone: +1 305-294-1136
Website: hemingwayhome.com
Tour including the Ernest Hemingway Home and Museum
Key West Lighthouse and Keeper's Quarters – Climb to the Top of the Lighthouse and Learn About Its History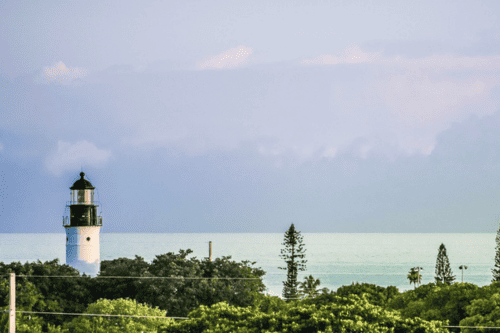 In the heart of Key West lies a hidden gem that promises an extraordinary adventure into the past – the Key West Lighthouse and Keeper's Quarters. This captivating destination invites you to immerse yourself in maritime history. Here you will embark on an unforgettable journey of discovery.
After walking up 88 steps to the top of the lighthouse, be prepared to have your breath taken away by the panoramic vistas that stretch before you. From the top of the lighthouse, gaze upon the picturesque streets of Key West. You will see vibrant hues of tropical paradise meeting the shimmering expanse of the turquoise sea. It's a view that will leave an indelible mark on your memory.
Throughout your visit, knowledgeable guides are on hand to share captivating tales and fascinating facts about the lighthouse's history. They provide insights into the technological advancements that have transformed the lighthouse from its early days with oil lamps to the modern electric system in use today.
As the sun slowly descends, casting vibrant shades of orange, pink, and purple across the sky, you'll be enchanted by the tranquil ambiance and the sheer natural splendor surrounding you. The rhythmic crashing of the waves against the shore and the gentle sea breeze create a serene atmosphere perfect for reflection and contemplation.
Open hours: 10 AM – 5 PM daily
Ticket: Free for children | 9 USD for Youth (7.5 USD online) | 17 USD for Adults (15.5 USD online)
Phone: +1 305-294-0012
Website: www.kwahs.org
Tours including Key West Lighthouse and Keeper's Quarters
Key West Historic Seaport – Explore the Historic Harbor and Take a Sunset Sail or Fishing Trip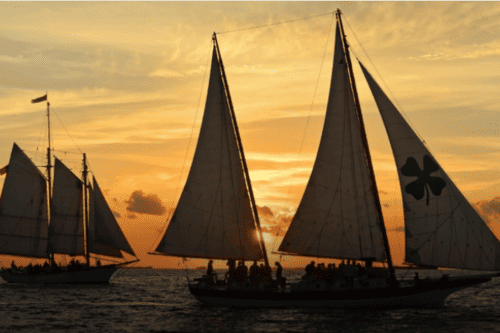 How about venturing into the heart of Key West's maritime heritage at the Key West Historic Seaport? The lively atmosphere draws you in as you stroll along the harbor walk. Your kids will marvel at magnificent sailing vessels and colorful fishing boats bobbing on the sparkling waters. The air is filled with the tangy scent of the sea, inviting you to discover the awaited treasures.
At the Historic Seaport, your family can indulge in a culinary adventure. Explore the waterfront restaurants that offer a tantalizing array of fresh seafood dishes. From succulent shrimp to mouthwatering fish tacos, each bite tells a story of the sea. Savor the flavors and let your taste buds dance with delight.
For the more adventurous souls, the seaport serves as a gateway to thrilling maritime activities. Your family can embark on a sunset sail, gliding across the turquoise waters as the sun paints the sky with breathtaking hues. Or why not join a fishing trip and cast your line into the depths, hoping for that prized catch? The possibilities for excitement and adventure are endless.
The harbor transforms into a lively entertainment hub as the day draws closer. Live music fills the air, and talented performers captivate audiences with their soulful melodies. Let the rhythm of the island sweep away your family, as you dance under the starlit sky and create cherished memories that will last a lifetime.
Key West Sunset Cruise
The Key West Art and Historical Society – Discover the Rich Culture and Art of Key West Through Exhibits and Events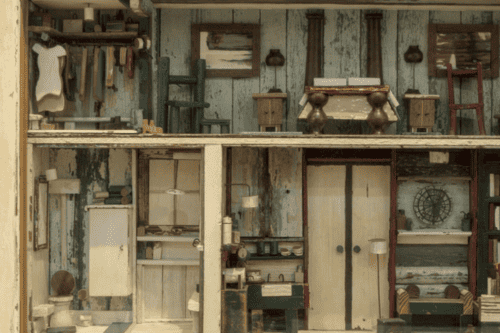 With a legacy spanning over 65 years, this esteemed institution is dedicated to preserving the unique cultural tapestry of the Florida Keys. Step inside their culturally distinct museums, including the Key West Museum of Art & History, the Key West Lighthouse & Keeper's Quarters, Fort East Martello, and the Tennessee Williams Museum, and embark on a journey through time.
With every step, you can delve into the diverse facets of Florida Keys culture and unlock a world of artistic brilliance and historical significance. Explore the rich tapestry of stories woven within the walls of historic landmarks, each holding a chapter of the island's past. From tales of triumph to resilience, you can unravel the intriguing narratives shaping the Key West community. As you engage with the exhibits, you can feel the spirit of the past come alive, igniting your imagination and transporting you to a different time.
But the Key West Art & Historical Society is more than just a repository of artifacts and artworks. It is a vibrant hub of community engagement and learning. Your family can engage in dynamic educational programs designed for adults and children. You can participate in workshops, lectures, and interactive experiences. Alongside, try to join in their exciting events that bring families together, allowing you and your kids to discover and create memories as you explore the rich cultural landscape of Key West.
Open hours: 10 AM – 5 PM daily
Ticket: Free for children | 9 USD for Youth (7.5 USD online) | 17 USD for Adults (15.5 USD online)
Phone: +1 305-295-6616
Website: kwahs.org
In conclusion, Key West's top family-friendly activities offer adventure, joy, and togetherness for visitors of all ages. So, Key West has it all, whether you're seeking thrilling adventures, educational encounters, or simply quality time together. Plan your visit today and embark on a journey filled with laughter, discovery, and unforgettable moments. Key West's family-friendly attractions are waiting to be explored and cherished.
Find & Compare Things To Do in Key West